Fresh from its first-pour successes in Sydney in April, Hawke's Brewing Co. has announced the next round of Hawke's First 11 – the pubs to first see the former Prime Minister's brew in Melbourne.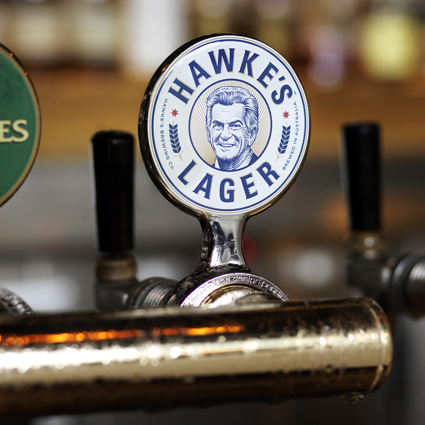 In early April, a gaggle of news-thirsty media crammed into Solotel's The Clock to see former PM Bob Hawke pull the first ever beer for the company that bears his name, launching a concept based in larrikinism and a fair go.
The brand story began on Australia Day 2015 – in New York. Aussie advertising creatives Nathan Lennon and David Gibson were discussing the freezing weather and missing beers at home with mates. Conversation shifted to with whom they would most like to share a beer, and both deciding Hawke, what that beer brand might be like.
Further discussion saw the pair hop a plane back to Sydney, take on business partner Luke Langton, and end up sitting in the kitchen of the former PM pitching their vision.
A partnership was formed with Hawke – the man that once held a world beer-drinking record – on the condition that his share of proceeds would be donated entirely to Landcare, which he helped form back in 1989 whilst PM.
The subject of the environment is still dear to the heart of the 87-year-old, and at the Sydney launch he spoke of mankind's dilemma around progress versus sustainability, leading into a cheeky pitch as to why all those that drink Hawke's Lager will be "making a contribution to the environment and your country".
After encouraging success with the Sydney 'Hawke's First 11' pubs, the Hawke's Brewing Co has unveiled Melbourne's chapter, set to pour from 1 June.
"Since the launch in April, we've fielded a lot of interest from venues and drinkers all over the country, asking when the beer will be available in their area, and plenty of that noise has come from Melbourne," says co-founder, David Gibson.
"Two of us at Hawke's are originally from Melbourne, and we love its incredible pub culture, especially during the winter months, so the timing feels right to roll kegs down south. There's also some ridiculously good craft beer being brewed down there, so we're humbled to have secured tap space in some of the city's best venues."
The Company's first product, Hawke's Lager, has been created by Justin Fox – former head brewer at Colonial Brewing Co. Accordingly, Colonial Leisure Group, the hospitality arm of Chris Morris' pub and brewery empire, has snapped up four of the Melbourne team.
Made using ingredients entirely produced in Australia, a share of the company's profits will go to Landcare on an ongoing basis, helping to further protect and educate people on the very land upon which it relies.
"I hope the efforts of this company will not only bring good friends together over a cold beer, but also help raise awareness of the great work done by Landcare," said Hawke.
Hawke's First XI (Melbourne venues)
Atticus Finch, Brunswick East
Bentleigh/Cheltenham-Moorabin RSL
Bimbo Deluxe, Fitzroy
The Botanical, South Yarra
The Corner Hotel, Richmond
The Grace Darling Hotel, Collingwood
The Grosvenor Hotel, St Kilda East
Lucky Coq, Windsor
The Penny Black, Brunswick
Railway Club Hotel, Port Melbourne
The Swan Hotel, Richmond