A reverence for Australia and larrikinism enveloped upstairs at The Clock as former Prime Minister Bob Hawke pulled the first ever Hawke's Brewing lager, officially launching the company.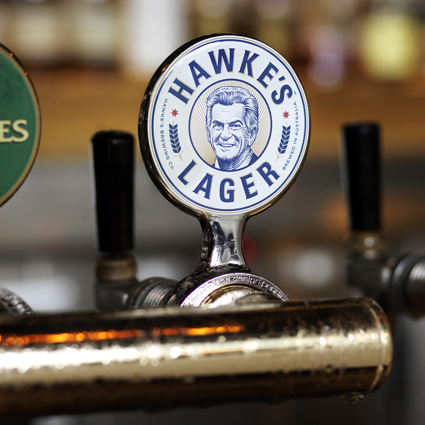 Media and camera crews packed The Clock's function space, the backbar emblazoned with a larger-than-life likeness of the great man, central to the company's logo and brand, as the 87-year-old made his way to Solotel's Surry Hills pub.
The story of Hawke's Brewery began 16,000 kilometres away, on Australia Day, 2015. Australian advertising creative directors Nathan Lennon and David Gibson were lamenting being in minus-five-degree weather in New York, rather than sipping beer with mates back home.
"Dave and I were chatting about who, given the chance, we'd most like to have a beer with," recalls Lennon. "We both said Bob Hawke.
"Our conversation drifted to what a beer brand with Bob Hawke might look like, which for us was all about recognising the kind-hearted, generous and community-centric values Mr Hawke embodies and then building a brand around that, and of course ensuring a great quality product was there to support the strength of that brand.
"Before we knew it, we were on a Qantas jumbo back to Sydney and drawing up a business plan with our National Sales Manager, Luke Langton, before the three of us were sitting in the former-PM's kitchen, sharing our vision for Hawke's Brewing Co."
Yesterday marked a year to the day since the partnership was formed – which was strictly conditional on all proceeds of Hawke's share going to one of his long-held passions, Landcare, which he helped form back in 1989, as Prime Minister.
As cameras rolled and flashes popped, the octogenarian start-up partner spoke of the dilemma facing Australia and the world: mankind's power to either raise the standard of living of every person on the planet, or destroy life as we know it.
"Those are the two awesome paths before us, and in our small way here, we're going to be doing our best to ensure Australia and the world goes down that first path," said Mr Hawke.
"And you can have a feeling of well-being as you sip your Hawke's Lager, knowing you'll be making a contribution to the environment and your country.
"You can see why I'm happy … helping your country and having a beer at the same time!"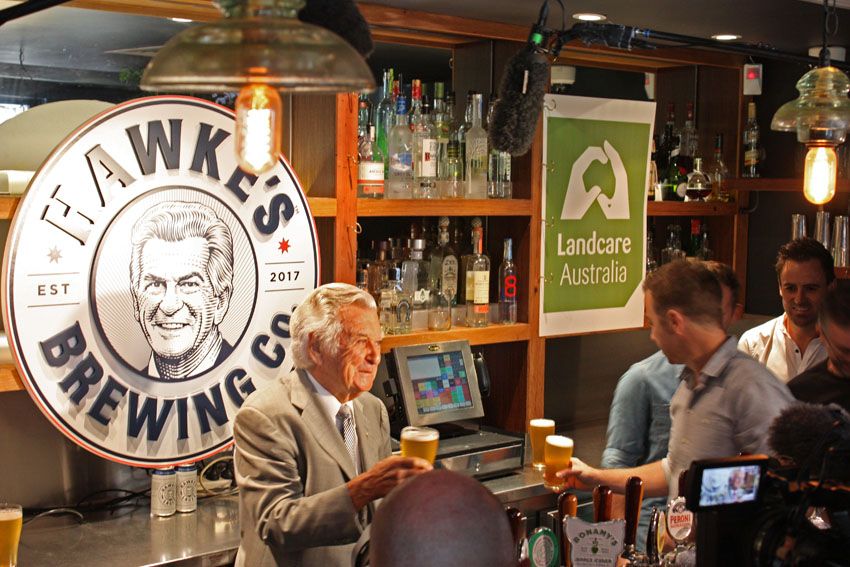 Hawke's Brewing's directors, whilst new to brewing, are not strangers to the alcohol industry. Lennon and Gibson have worked on a number of high-profile and awarded campaigns for alcohol brands at industry-leading advertising agency, Droga5, in New York.
National sales manager, Luke Langton, has worked in liquor sales for over 17 years, beginning at Foster's, and recently leaving a career with the world's biggest wine company to start again, alongside Lennon and Gibson, and form the Hawke's start-up.
The directors determined to execute a strategic introduction of the brand, which will include special engagement with rural pubs, in areas that will directly benefit from the Landcare partnership.
The high-profile roll-out begins with 'Hawke's First 11' in Sydney, testing the legs of production of the fresh lager, being done in Port Melbourne. Speaking with PubTIC at the launch, Langton said they had no problem placing the first First 11 taps.
"After the Sydney Hawke's First 11, which goes for eight weeks, until June 1st, then we'll look to roll out the next Hawke's First 11. We'll do them in the major capital cities.
"Our strategy is very much about on-premise. One of the most exciting parts is when we start to move into rural Australia. These are the farmers we're helping through Landcare, that can then go into their local pub and get a schooner of Hawke's and support the business.
"To have a business that incorporates giving back, for us is important. Yes, we want to grow a big company and be successful, but we believe we can also have an element that makes us sleep well at night.
"Bob Hawke is synonymous with Australia across the board. A man who transcends politics and embodies the values we respect."
Of the 11 pubs selected to stock the brand new patriot brew, Solotel was able to secure taps at five from its expanding portfolio. Solotel COO Justine Baker told PubTIC they loved the larrikin connection from the start.
"We also like the social responsibility aspect, with Landcare," said Baker. "It's a really good thing to get involved with and support.
"All of our pubs we've put it in we see as 'heart of the community' pubs, so it dovetails quite nicely."
The first beer release of Hawke's Brewing Company is Hawke's Lager, made with 100 per cent Australian ingredients, incorporating Aussie hops, Helga, Ella and Topaz, for an IBU rating of 18 and ABV of 4.5 per cent.
The company's head brewer is Justin Fox, legendary as founding head brewer at Colonial Brewing Co., where he created and brewed its award-winning Small Ale and Kolsch (Draught) Ale.
Beyond the fanfare roll-out to venues, from 25 April Hawke's Lager will be available in cans at selected bars, and at Camperdown Cellars exclusively for two weeks, before further distribution into retail outlets.
The Sydney Hawke's First XI venues are:
The Australian Heritage Hotel, The Rocks
The Clock Hotel, Surry Hills
The Clovelly Hotel, Clovelly
The Courthouse Hotel, Newtown
Greenroof, Newcastle
The Kirribilli Hotel, Milson's Point
The Lord Dudley, Paddington
The New Brighton Hotel, Manly
The Prince, Kirrawee
Public House, Petersham
The Sackville Hotel, Balmain