Organisers report another record-breaking GABS in 2017, taking the Sydney event to a new location and repositioned demographic.
2017 was the 7th Great Australian Beer SpecTAPular (GABS), and the go-to event in Australia for celebrating the craft beverage industry shows no signs of slowing down.
This year saw a third 'Kegtainer' required, bringing capacity for up to 180 of the specially-brewed 'Festival Beers' and Ciders made just for GABS. (see full list below)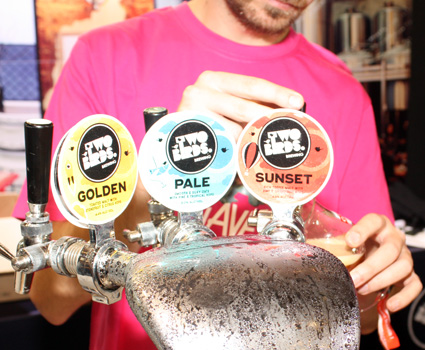 Appealing to an ever-broadening demographic, encompassing experimental adolescents to hop-hugging connoisseurs to the growing body of people drawn to the pursuit of better food & bev, the festival provides a vast selection of established and up-and-coming brew operations alongside specialty food stalls, all to the accompaniment of waves of entertainment.
GABS is the creation of beer die-hards Steve Jeffares and Guy Greenstone, proprietors of the Local Taphouse brew meccas in St Kilda and Darlinghurst, makers of the Hottest 100 Aussie Craft Beers list, and more recently the Stomping Ground Brewing Co.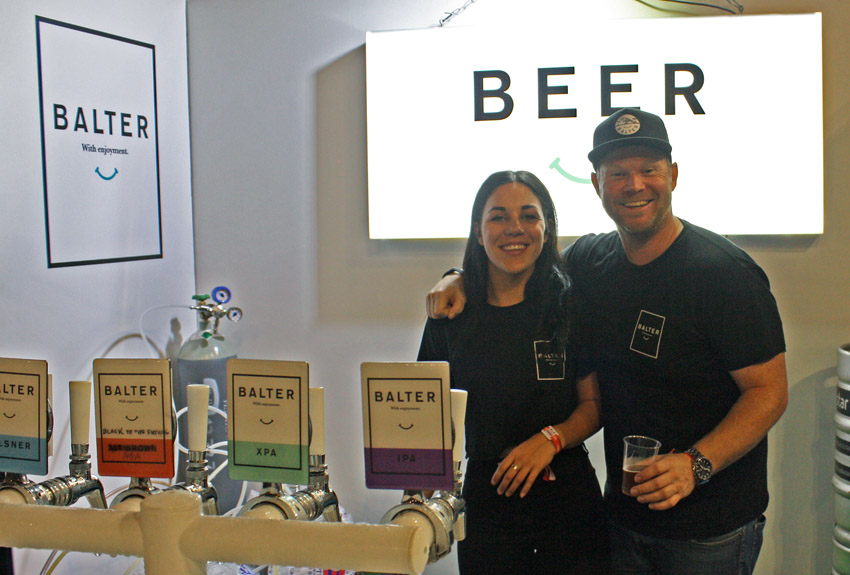 The festival has grown to see Melbourne's instalment at the Royal Exhibition Building this year run 19-21 May, bringing almost 20,000 visitors – up 10 per cent on last year.
The Sydney edition has only run a couple of years, and previously been at Redfern's Australian Technology Park (ATP), which was sold during the past year ahead of pending redevelopment. Although the events company, SpecTAPular Enterprises, had a pre-booking, this was not honoured by the new owner.
With few Sydney venues suited to holding the growing event, Greenstone and Jeffares turned to The Dome at Olympic Park. While many things worked for the move west, there was initially some reservation about leaving the craft beer-loving inner-west.
"When Steve and I went to the Showground we were skeptical, but we saw The Dome and knew it could work," reports Greenstone. "It's an amazing place for what we wanted, in some ways so much simpler, with massive loading docks and maybe a bit more space.
"But the move also demonstrated a lot of trust in us by both the punters and the exhibitors. As it's been going for a while we have great relationships, and thankfully they were willing to come on board. And the festival-goers awarded us the same sort of trust."
Despite the inaugural march west of Leichhardt for many city-siders, the Saturday afternoon session was sold out and the evening session around 85 per cent capacity. Shortened to just the two sessions due to the cost of the venue, Greenstone reports the final numbers for Sydney were the same as last year, which was everything they had hoped.
"We were thrilled with the attendance. It was a really great vibe, people friendly and enjoying themselves. It demonstrated we can do this event at the showground.
"The showground people were great to deal with, if the economics work and they demonstrate the same sort of willingness … I won't say for sure, but we'd be happy to be back there again next year."
The Auckland instalment of GABS 2017 will take place 16-17 June.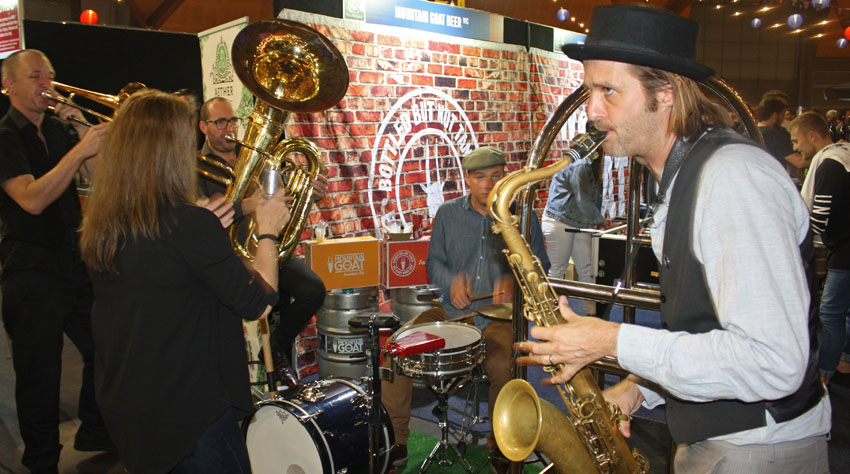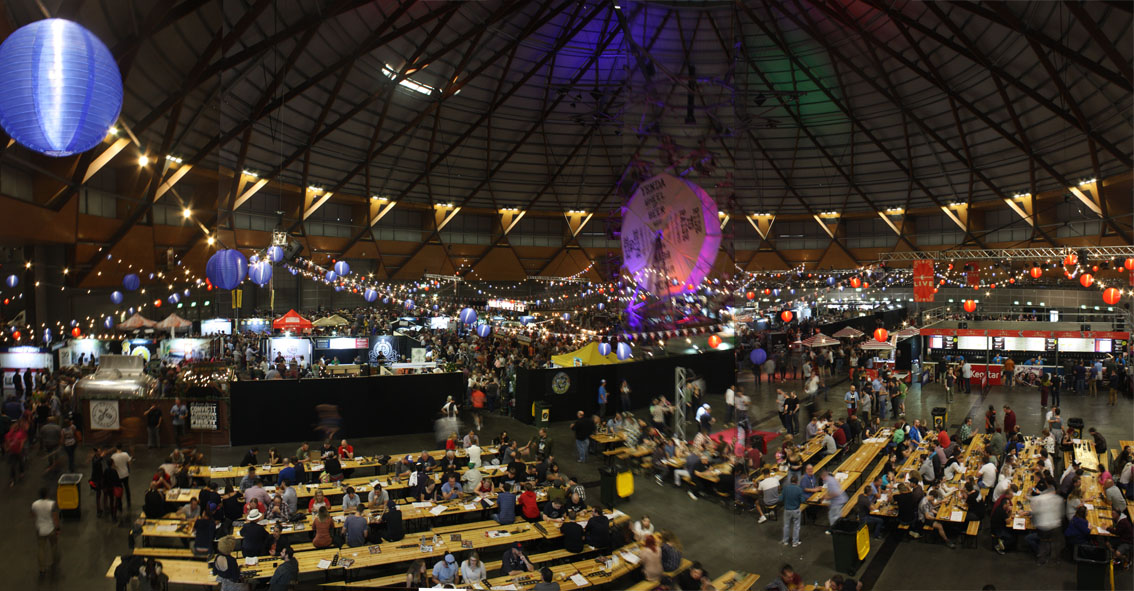 Festival Beers
2 Brothers Brewery
THE SMOKING JACKET
3 Ravens Brewery
LITTLE RAVENS MANGO LASSI IPA
4 Pines Brewing Co
HIDDEN IN PLAIN SIGHT
7 cent Brewery
TROPIC THUNDER
8 Wired Brewing
COSMIC CHAOS
Aether Brewing
BONE AND MARROW
AIBA (Australian International Beer Awards)
CITRUS EAST COAST IPA
AIBA Champion Australian Amateur Homebrewer
DUBBEL DATE
Akasha Brewing Company
LUPULIN FOG
All Inn Brewing Co
LIFE IS LIKE A BOX OF CHOCOLATES
Athletic Club Brewery
WHEAT WINE & A THREE DAY GROWTH
Australian Beer Co
NITRO CHERRY IPL
Australian Brewery
KIWI FRUIT TART
B.Effect Brewing Co
BLAZING HOPS
Bad Shepherd Brewing Co.
BIGSI'S BALTIC PORTER
Badlands Brewery
M.A.D. STOUT
Barossa Valley Brewing
BARREL OF DRUNKEN MONKEYS
Batch Brewing Company
A CURRANT STATE OF INFUSION
BentSpoke Brewing Co
JOE CARB
Big Shed Brewing Concern
#63 THAI GREEN CURRY
Black Brewing Co
BAO BAO PORT ROYALE
Black Heart Brewery
BLACK HEART TART
Black Hops Brewing
BAND WAGON
Blackman's Brewery
ESPRESSO MARTINI KOLSCH
Blizzard Brewing Company
APRÈS-SKI ALE
Bootleg Brewery
ROCKETSHIP IPA
Brewaucracy
YOU DON'T HAVE TO BE NUTS TO WORK HERE
Brewmanity Beer Co
WHISKEY ON EISBOCK
Bridge Road Brewers
THESE PRETZELS ARE MAKING ME THIRSTY
Bright Brewery
YIPPEE THAI YAY
Brisbane Brewing Co
MĀTES PIENS (MOTHER'S MILK)
Brothers Beer
DONUT STOUT
Brouhaha Brewery
RAISIN HELL
Bucket Boys Craft Beer Co
RED VELVET
Burleigh Brewing Company
HEFSTER
Capital Brewing Co
DOUBLE DOUBLE
Castlemaine Brewing Company
FELIX
CBAHK Brewers Guild
WEI(ZEN) OF THE DRAGON
Cheeky Monkey Brewery and Cidery
RUM AND RAISIN BOCK
Choice Bros Brewing
PURPLE RAIN
Chur Brewing Company
CHOCOLATE FISH MILK STOUT
Clifton Hill Brewing Company
THAT'S NUTS
Co-Conspirators Brewing Company
RUMBALL IN THE JUNGLE
Colonial Brewing Co
RYE 'N GOSE SLING
Concept Brewing
SEXY TIME LOVE JUICE
Cricketers Arms
BURNT BAILS
Cubby Haus Brewing
A9 TO THURSO
Dainton Family Brewery
BROWN EYE RYE
Deeds Brewing Co
JUICE TRAIN NEW ENGLAND IPA
Deep Creek Brewing Co.
THE OLD FASHIONED
Doctor's Orders Brewing
HOMEOSTASIS
Double Head Brewing
BLACK PURL
Ekim Brewing Co
POWDER TO THE PEOPLE
Emporium Brewing
NO WHEY? YES WHEY!
Feral
DARK MATTER
FogHorn Brewhouse
DUBBEL RAISIN EXTRA STOUT
Forrest Brewing Company
LOST CHERRY
Fortitude Brewing Co
ECHO CHAMBER IPA
Frenchies
KISS FROM A. ROSE
Funk Estate
PINK DRINK IPA
Gage Roads Brewing Co
AMERICAN BROWN
Garage Project
BANGH THANDI
Grand Ridge Brewery
CINNAMON RED ALE
Harringtons
SMASHED 'EM BRO IPA
Hawkers / Wheaty Brewing Corps
BAKLAVA BROWN
Holgate Brewhouse
CLOUDY WITH A CHANCE OF MANGOES
Holiday Brew Co
MANGO MILKSHAKE
Hong Kong Brewers Guild
THE NUTS
Hop Nation Brewing Co
JEDI JUICE
HopDog BeerWorks
PANDAPOPPINFAIRYTURKISHFLOSS
Hope Brewhouse
THE KING'S NUTS (PB & C)
Indian Ocean Brewing Company
BRETT NOT BRETT
Invercargill Brewery
CRIMINALLY BAD
James Squire
MINT HEIST
Kereru Brewing
SWEET BIPPY
Killer Sprocket
BEASTBLADE
Kooinda Brewery
ROSEMARY GOLDEN PORTER
La Sirène Brewing
ESPRESSO SOUR
Little Creatures
FESTOON IPA
Little Rivers Brewing Co
LITTLE LICKA
McCashin's Brewery
PIC'S PEANUT BUTTER JELLY PORTER
McLeod's Brewery
BONNIE PALE ALE
Merchant Brewing Company
FRUIT TINGLE
Mike's Beer
MIKE'S SECOND COMING
Mismatch Brewing Co.
HAZED AND CONFUSED
Moa Brewing Co.
DUBBEL HOP
Modus Operandi
CASCADIAN HOWL
Moon Dog Brewing
THE JIMMY LAUREYS
Mornington Peninsula Brewery
THE MIGHTY BOOCH
Morrison Brewery
GREEN CURRY & RICE SAISON
Mount Brewing
PEANUT BUTTER JELLY TIME
Mountain Goat Beer
QUETZALACATENANGO
Murrays Craft Brewing Co
BROWN TOWN
Nail Brewing Australia
SUPER VPA
New England Brewing Co
THE SMOLDERING STUMP
Newstead Brewing Co.
FRESH GEORGE
Nomad Brewing Co
REELING TEELING TIPSY CONVICT
Odyssey Craft Brewing Co
JERSEY CARAMEL PORTER
Old Wives Ales
RÜBEZAHL
Otherside Brewing Co
ORANGE IS THE NEW ENGLAND BLACK
Outlier Cartel
WUNDERKAMMER
Pact Beer Co
WHO POURED THE PORTER IN THE COOKIE JAR?
Piha Beer
KINA STOUT
Pikes Beer Company
DOUBLE BARREL BLACK
Pink Boots NZ
GRATEFUL GRAPEFRUIT
Pirate Life Brewing
VANILLA MALT THICKSHAKE
Prancing Pony Brewery
HUNT FOR THE RED VELVET
Red Duck Beer
LEMON, LIME & BITTERS
Red Hill Brewery
THE DARK HORSE SCHWARZ
Riders Brewing Co
X-TRUX
Riverside Brewing Company
SMOKEY MARTINI
Rocks Brewing Company
THE CAPTAIN
Sailors Grave
MILKY WAY
Sawmill Brewery
1.K
Shambles Brewery
'COOL RUNNINGS' WHOLE COFFEE STOUT
Shark Island Brewing Co
AT THE COALFACE
Shenanigans Brewing Co
FLOWER POWER
Sierra Nevada
BOMBASTIC MONASTIC
Six String Brewing Company
PURPLE PEOPLE EATER
Staves Brewery
AURORA/RIWAKA SMASH
Stockade Brew Co
THE MOUNTIE MAPLE IMPERIAL STOUT
Stomping Ground Brewing Co
IT TAKES TWO TO MANGO
Stone & Wood Brewing Company
SALTY SOUR EAST
Tallboy and Moose
IRISH COFFEE CARBOMB
Te Aro Brewing Company
(B)RHETT AND SCARLETT
The Craft & Co
SIGNORA AMPHORA
The Little Brewing Company
CHOCOLATE ON RYE
The Mussel Inn
PIG-ME WHALE
Thirsty Crow
ROCKETSHIP IPA
Tooborac Brewery
YANKANADIAN
Tuatara
URBAN DANKSTER
Two Birds Brewing
SLAYER
Two Heads Brewing
CULT OF DIONYSUS
Valhalla Brewing
AUNTY MYRTLE'S KNITTED CARDIGAN
Van Dieman Brewing
AFTER DINNER MINT
Watts River Brewing
HOP WHEEL
Wayward Brewing Company
FUNKY HOPPY PEOPLE
Wedgetail Brewing
MOKO IMPERIAL PILSNER
West City Brewing
WESTIE WHITE STOUT
Westside Ale Works
TRUMPED
White Rabbit Brewery
WOLPERTINGER
Willie the Boatman
MARVIN BERRY'S CHOC-MILK STOUT
Wolf of the Willows
'RAISIN' KILTS' RUM 'N RAISIN SCOTCH ALE
Yak Ales
FLAPJACK YAK MAPLE ALE
Yeastie Boys
ROYAL TANNINBOMB
Young Henrys
BLANCHE DEVEREAUX
Yulli's Brews
'GILBERT' PINOT GRIGIO WILD ALE
Festival Ciders
Blue Elephant Beverage Co.
"ROCKAFELLA" CIDER
Edgebrook Cider
EDGEBROOK 'WINTER CHAI' CIDER
Frank's Cider
FRANK'S RASPBERRY, PEAR AND HONEY CIDER
Golden Axe
"PASH MA COBANA" TROPICAL CIDER
Grand Ridge Brewery
CINNAMON APPLE CIDER
Invercargill Brewery
CRIMINALLY GOOD
LOBO Cider
BODECEA
McCashin's Brewery
ROCHDALE PINA COLADA CIDER
Moa Brewing Co.
AROHA RHUBARB CIDER
Napoleone Brewery & Ciderhouse
PAIR À PÈRE
Red Brick Road Cider
THE BLUSHING BELGIAN
Small Acres Cyder
SMALL ACRES SUMMER PUDDING
Spreyton Cider
SESSIONABLE JONAGOLD
The Hills Cider Co
BARREL AGED ORGANIC CLOUDY CIDER
The Mussel Inn
HOT DOG FISH
Three Wise Birds
NATIONAL TREASURE
Willie Smith's Cider
CERASUS SOUR
Zeffer
CHERRY BOMB
Blue Elephant Beverage Co.
"ROCKAFELLA" CIDER
Edgebrook Cider
EDGEBROOK 'WINTER CHAI' CIDER
Frank's Cider
FRANK'S RASPBERRY, PEAR AND HONEY CIDER
Golden Axe
"PASH MA COBANA" TROPICAL CIDER
Grand Ridge Brewery
CINNAMON APPLE CIDER
Invercargill Brewery
CRIMINALLY GOOD
LOBO Cider
BODECEA
McCashin's Brewery
ROCHDALE PINA COLADA CIDER
Moa Brewing Co.
AROHA RHUBARB CIDER
Napoleone Brewery & Ciderhouse
PAIR À PÈRE
Red Brick Road Cider
THE BLUSHING BELGIAN
Small Acres Cyder
SMALL ACRES SUMMER PUDDING
Spreyton Cider
SESSIONABLE JONAGOLD
The Hills Cider Co
BARREL AGED ORGANIC CLOUDY CIDER
The Mussel Inn
HOT DOG FISH
Three Wise Birds
NATIONAL TREASURE
Willie Smith's Cider
CERASUS SOUR
Zeffer
CHERRY BOMB