A survey of the opinions of Australian beer drinkers demonstrates the complexities of consumer preferences – especially in a highly competitive market, such as beer.
The study was by international research firm YouGov, which aims to produce insights around consumer brand perception and purchasing behaviour, using measures of Value and Quality.
Its recent focus on Australian beer preferences does not specify how data was gathered or who participated in the survey, and cites only major brands in the results.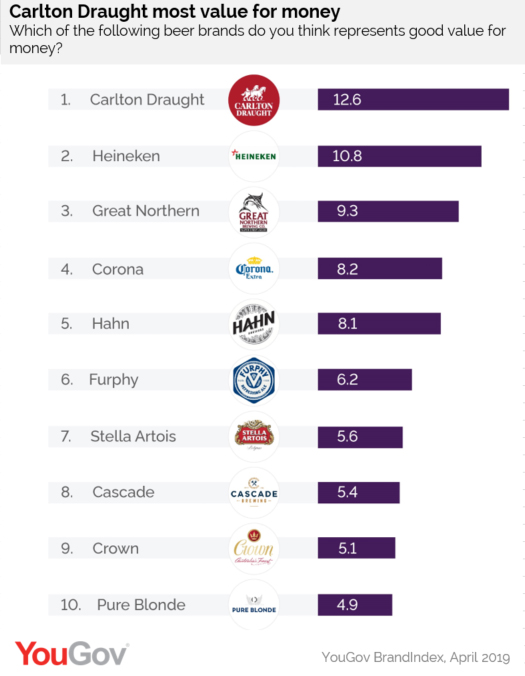 Significantly, Carlton Draught topped the overall list for value plus quality (score of 12.6), while sister brew and top-seller in many states, VB, came in second-last just ahead of West End.
Dutch staple Heineken came in second overall (10.8), but also topped the list for Quality, with a score of 27.8.
Relative newcomer, CUB's Great Northern took third place (9.3), Mexican staple Corona fourth (8.2) and Hahn fifth (8.1).
The survey seemed to ask consumers their preference out of a given list, so may not have included many of the popular but lower-volume brews currently on the market.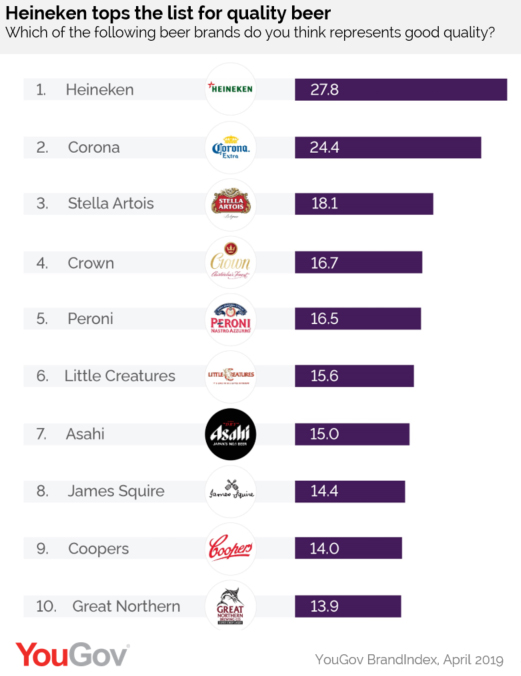 The results certainly vary dramatically to beer-devotee surveys such as GABS, which features none of the YouGov Top10, while conversely none of the stand-outs on the GABS list rate a mention on YouGov.
These manifest differences could be the result of fundamentally different survey parameters (not made clear) or the result of limited options, leading to biased or skewed findings.
It does seem poignant that five of the top 'Quality' beers are imports, and of the remaining five only Coopers counts as an independent craft brand.
"The alcohol industry – and lager brands in particular – is becoming increasingly competitive," notes YouGov Galaxy's Giles Haynes.
"With the introduction of craft beers from microbreweries, and with beer drinkers moving away from corporate giants in favour of smaller brewers with unique flavour, even big-name beers are under pressure to keep up their appeal to target audiences while maintaining quality and value."