Back for its tenth big year, the Great Australian Beer SpecTAPular (GABS) Hottest 100 Aussie Craft Beers list was released over the Australia Day weekend. (full list below)
Saturday saw over 45 events held around the country, with patrons partaking and counting down the now legendary list, which provides a powerful annual snapshot of the trends, brands and breweries shaping the industry.
2017 saw traditional favourites 4 Pines, Pirate Life and Feral Brewing drop down the rankings, in wake of their acquisitions by AB InBev and CCA.
This made space for some new leaders, with 71 per cent of the listed beers from 47 companies, and notably nine of the top ten, produced by independently owned breweries.
Winning the overall race was Balter's XPA, created at the Gold Coast brewery part-owned by surfing icon Mick Fanning. Balter produces five beers, all of which made the list, and was the only brewery to appear twice in the Top 10.
Runner-up was Stone & Wood's ever-popular Pacific Ale, a consistent top three finalist since 2010 and title-winner three times. Third place went to Crankshaft, by BentSpoke Brewing Co, one of three from Canberra to make this year's list.
Strongest individual performances went to incumbent winner Pirate Life, with seven beers listed, and also Mona Vale's Modus Operandi, which along with Balter also scored five entries.
In way of trends, seven beers made in the newly popular New England or 'hazy' IPA style made the Top 100, highest ranking being Jedi Juice by Melbourne's Hop Nation.
GABS cites the New England IPA movement appears to be another extension of the appreciation of hop-driven beers, which accounted for 75 per cent of the 2018 count – up from 68 per cent last year.
This year generated a record number of votes, up 33 per cent on 2017, with more than 2,000 beers nominated and 24 newcomers to the final list.
GABS, Local Taphouse and Stomping Ground Brewing Co founder Steve Jeffares notes the list has become more than the 'fun and simple' guide for beer enthusiasts it set out to be.
"What we've seen over the ten years of the poll is that it's become so much more, revealing the ever-changing tastes of the Australian craft beer lover."
"We're thrilled with this year's list, which is possibly one of the most exciting yet. New breweries, new styles and importantly, new winners all go to illustrate what an exciting time it is in the craft beer space."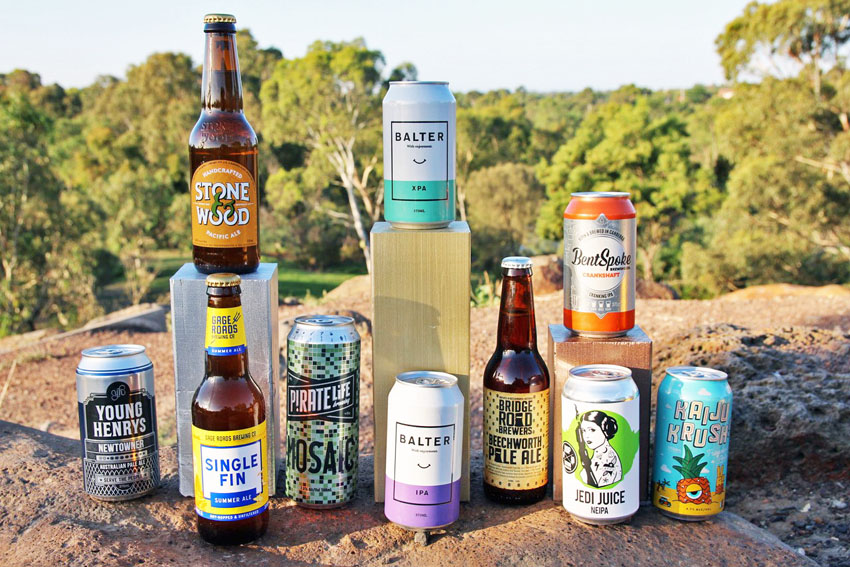 FULL LIST
'XPA' American Pale Ale (Balter, QLD)*
'Pacific Ale' Australian Pale Ale (Stone & Wood, NSW)*
'Crankshaft' American IPA (BentSpoke, ACT)*
'Newtowner' Australian Pale Ale (Young Henrys, NSW)*
'Single Fin' International Pale Ale (Gage Roads, WA)*
'Mosaic' American IPA (Pirate Life, SA) NEW
'IPA' American IPA (Balter, QLD)* NEW
'Jedi Juice' New England IPA (Hop Nation, VIC)* NEW GABS
'Beechworth Pale Ale' American Pale Ale (Bridge Road, VIC)*
'KRUSH!' American Pale Ale (KAIJU!, VIC)*
'Little Dove' International Pale Ale (Gage Roads, WA)*
'Former Tenant' Red IPA (Modus Operandi, NSW)*
'IIPA' Double IPA (Pirate Life, SA)
'Hop Hog' American Pale Ale (Feral, WA)
'IPA' American IPA (Pirate Life, SA)
'Pale Ale' American Pale Ale (4 Pines, NSW)
'Juicy' New England IPA (3 Ravens, VIC)* NEW
'Future Factory' Double IPA (Modus Operandi, NSW)* NEW
'Back To The Brewer' New England IPA (Mountain Goat, VIC) NEW
'Pale Ale' Australian Pale Ale (Black Hops, QLD)* NEW
'Sonic Prayer' American IPA (Modus Operandi, NSW)*
'One Fifty Lashes' Australian Pale Ale (James Squire, NSW)
'Pale Ale' American Pale Ale (Pirate Life, SA)
'Sprocket' American IPA (BentSpoke, ACT)* NEW
'Coast Ale' California Common (Capital, ACT)*
'Pale Ale' American Pale Ale (Little Creatures, WA/VIC)
'Barley Griffin' Australian Pale Ale (BentSpoke, ACT)*
'Trail Pale Ale' American Pale Ale (Capital, ACT)*
'Wild Yak' Australian Pale Ale (Yak Ales, VIC)
'IPA' American IPA (Fixation, NSW)*
'VPA' American Pale Ale (Nail, WA)*
'War Hog' American IPA (Feral, WA)
'XPA' International Pale Ale (Philter, NSW)* NEW
'Vanilla Milk Stout' Sweet Stout (Thirsty Crow, NSW)*
'Atomic' American Pale Ale (Gage Roads, WA)*
'Windjammer' American IPA (Green Beacon, QLD)*
'Kolsch' Kölsch (4 Pines, NSW)
'Furphy Refreshing Ale' Kölsch (Furphy, VIC)
'India Red Ale' Specialty IPA (Prancing Pony, SA)*
'The Matriarch' New England IPA (CoConspirators, VIC)* NEW
'Indian Summer Ale' Australian Pale Ale (4 Pines, NSW)
'Throwback' American IPA (Pirate Life, SA)
'Pilsner' German Pilsner (Balter, QLD)* NEW
'Korben D.' Double IPA (Akasha, NSW)*
'Golden Stout Time' Sweet Stout (Big Shed, SA)* GABS
'Cloud Catcher' Australian Pale Ale (Stone & Wood, NSW)*
'Twisted Palm' American Pale Ale (Burleigh, QLD)*
'Bling' American IPA (Bridge Road, VIC)*
'Three Sheets' Australian Pale Ale (Lord Nelson, NSW)*
'Mount Tennent' American Pale Ale (Pact, ACT)*
'The Mountie' Specialty Beer (Stockade, NSW)* NEW GABS
'Squish' Specialty IPA (Fixation, NSW)* NEW
'Wayfarer' American Wheat (Green Beacon, QLD)*
'Hopsmith' American IPA (Akasha, NSW)*
'Hornet' American IPA (Black Hops, QLD)* NEW
'3 Bolt' American Pale Ale (Green Beacon, QLD)*
'Summer Hop Ale' American IPA (Young Henrys, NSW)*
'Small Ale' American Pale Ale (Colonial, WA/VIC)*
'Pale Ale' American Pale Ale (Colonial, WA/VIC)*
'Steam Ale' California Common (Mountain Goat, VIC)
'Natural Lager' Pale Kellerbier (Young Henrys, NSW)*
'Dark Ale' Porter (White Rabbit, VIC)
'Spearhead' Australian Pale Ale (Cricketers Arms, VIC)
'Fat Yak' Australian Pale Ale (Yak Ales, VIC)
'IPA' Specialty IPA (Colonial, WA/VIC)*
'Pale' American Pale Ale (Modus Operandi, NSW)*
'Dog Days' Australian Pale Ale (Little Creatures, WA/VIC)
'Evil Eye' Red IPA (Capital, ACT)*
'Pale Ale' Australian Pale Ale (Kosciuszko, NSW)
'Taco' Specialty Beer (Two Birds, VIC)* GABS
'Old Mate' American Pale Ale (Moon Dog, VIC)*
'Summer Ale' Blonde Ale (Mountain Goat, VIC)
'Garden Ale' Australian Pale Ale (Stone & Wood, NSW)*
'Hazelnut Brown Ale' English Brown Ale (Bad Shepherd, VIC)*
'Tusk' Double IPA (Feral, WA)
'Hazy Craze' New England IPA (White Lies, QLD)* NEW
'Session IPA' Specialty IPA (Modus Operandi, NSW)*
'Aftermath' Double IPA (KAIJU!, VIC)*
'TPP Strong Pale Ale' American Pale Ale (Pirate Life [SA] / Ballast Point [USA]) NEW
'Vanilla Malt Thickshake' Winter Seasonal Beer (Pirate Life, SA) NEW GABS
'The Punch' Gose (Hop Nation, VIC)*
'Juicy Banger' Dry Hopped Lager (Blackman's, VIC)* NEW
'Biggie Juice' New England IPA (Feral, WA) NEW
'7 Bells' Gose (Green Beacon, QLD)* NEW
'Blood Orange New England Rye IPA' New England IPA (Dainton, VIC)* NEW
'The Swindler' Australian Pale Ale (James Squire, NSW) NEW
'28' American Pale Ale (Burleigh, QLD)*
'India Pale Lager' Pale Lager (Beerfarm, WA)*
'Bighead' Pale Lager (Burleigh, QLD)*
'Black Metal Disco' Sweet Stout (Balter, QLD)* NEW
'Passion Victim' Australian Pale Ale (Two Birds, VIC)* NEW
'Robust Porter' Porter (Bridge Road, VIC)*
'Session Ale' Australian Pale Ale (Mismatch, SA)*
'Pale' American Pale Ale (Mornington Peninsula, VIC)*
'8bit' American IPA (Stockade, NSW)*
'Alt Brown' American Brown Ale (Balter, QLD)*
'Sparkling Ale' Australian Sparkling Ale (Coopers, SA)*
'Bright Ale' Australian Pale Ale (Little Creatures, WA/VIC)
'Little Bling' Specialty IPA (Bridge Road, VIC)*
'Rogers' American Amber Ale (Little Creatures, WA/VIC)
KEY
* Brewed by an independent brewery (as defined by the Independent Brewers Association)
NEW Brewed for the first time in 2017
GABS A 'Festival Beer' brewed especially for GABS Beer, Cider & Food Fest