Australian Venue Company (AVC) has pounced on another new venue, remodelling and rebranding the retired Rorkes to become the sophisticated, all-occasion Smith St Social. 
AVC continues its strategic acquisitions, eyeing long-term prospects for the growing portfolio, backed by New York-based investment firm KKR.
In March AVC announced its long-fought venture to take over operations of Coles' 87 pubs, bringing about Queensland Venue Company (QVC), jointly owned by the two parent companies. Coles would continue management of the off-premise outlets associated with the Queensland pubs.
Demonstrating its plans cited at the time to expand on QVC opportunities in operations, in May the new entity took over Open Arms' Brisbane pub Riverland.
AVC reports "tremendous long-term prospects" in Darwin, bolstered by a growing population, of both armed forces and locals.
CEO Paul Waterson told PubTIC the Smith St acquisition, which is by AVC not the joint venture, is a look to the future.
"Darwin is one of those markets where you have to invest through the cycle, in our view.
"We are really excited to introduce Smith St Social to Darwin. We wanted to create a vibrant space for the local community with a real focus on a quality, simple offering done well."
The remodelled pub brings a variety of versatile spaces and experiences, aiming to attract a variety of markets.
The ground floor offers a spacious bistro, leading upstairs to the function room, dancefloor and bar on level one, and vast open-air rooftop above. 
Menus across the venue are the domain of executive chef Christian Abbot, serving up "pub classics you know and love with a touch of worldly flavours".
The stars are stone-baked pizzas, and premium steaks, from a 200gm eye fillet to 500gm rib-eye. There are also share-style dishes on the small plates menu, such as chicken wings, king fish tacos and wagyu beer sliders, as well as a range of salads, burgers and pub classics.
Drinks menus offer craft and mainstay beers, selected Australian wines, and classic and signature cocktails.
Opening weekend – beginning Friday, 2 August – will give away 500 free pizzas to the first to arrive, with Abbott and the team spinning bases from midday. And Monday (5 August) Smith St Social will be celebrating the Darwin Cup, with free entry and cocktails flowing.
The first Saturday will also see launch of the SSS signature "weekly brunch" from 1 – 3pm, where guests will be offered a drinks package (selected wine, beer and cocktails) plus an item from the brunch menu, for $49 per person.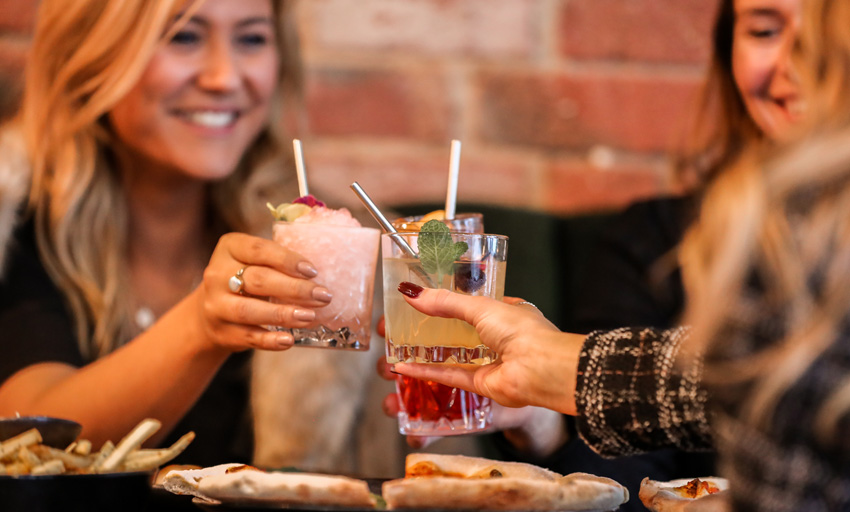 Now holding several venues in the Northern Territory, including Monsoons and Shenanigans, Waterson says the precinct is open for business.
"There is an extremely supportive regulatory environment where they work very closely with hotel operators to get good outcomes. We worked with them to fund verbal judo training for all security guards teaching staff how to de-escalate volatile situations.
"[Smith St Social] is somewhere for everyone; you can go and sit with friends and family to enjoy a meal in the bistro or say cheers with a few knock-offs after work on the rooftop. We hope they love it."