Celebrated artisan of ale, Little Creatures, has released its latest seasonal masterpiece, hoping to warm cooling hearts with a Winter Stout.
Little Creatures is celebrating its 19th year of operation. Hailing from the West Coast, it counts commercial breweries in Fremantle and Geelong.
Russ Gosling, head brewer in Fremantle, says they are always experimenting, with the goals of both creating new beers and perfecting brews.
The latest limited-edition seasonal is a refined version of the brewer's stout recipe, hoping to create the perfect mix to stimulate lovers of dark beer this winter.
It follows recent creations such as the Norfolk Pine-apple Pale Ale, and the East Side Pale Ale with aromatic Cashmere hops and Osmanthus Fragrans tea, made for the annual GABS festival.
"We want people to take a sip and feel like they're in a cosy London pub by a roaring fire," says Gosling of Winter Stout.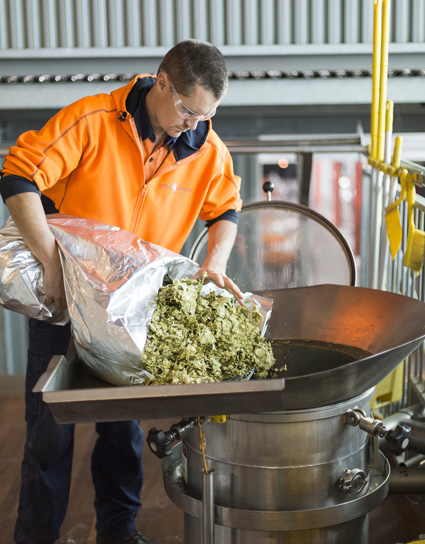 "So, we've gone hoppier and amped up our signature Fuggle hops along with US Loral to get that noble, earthy, dark fruit quality with chocolate and roast, to create a balanced, smooth stout."
Little Creatures Winter Stout is available on tap at select venues nationally, and at leading retailers.
Little Creatures Winter Stout:
Hops: EKG, Fuggles, US Loral, Southern Cross
Malt Bill: Pale malt, Munich, Crystal, chocolate malt, Carafa T3, Golden naked oats, Roasted
IBU: 58
Alc/Vol: 5.8%
Russ Gosling's tips on how to pick (and drink) the perfect stout:
Red is the new black: you want your stout to be black but with a red tinge when you hold it up to the light.
Smoother than Bublé: the taste should be smooth, with rich chocolate, some roasted coffee notes and a hint of liquorice.
Keep it cool: always pour it into a glass and serve at 12°C.
It is better in pairs: make the most of your stout by pairing it with a crumbly blue cheese or aged Gouda.
Relax and savour: preferably in your PJs and Uggs on a cold winter's night.