After decades selling drinks to them, former Lion director Frank Arangio has slipped onto the other side of the bar, buying Wyong's Royal Hotel for nearly $7 million.
Continuing the flow of sales of NSW coastal hotels, Arangio bought the Royal at Wyong alongside wife Marney, and in partnership with industry stalwart, publican Pat Gurr – owner of Armidale's Whitebull Hotel.
Representing the couple's foray into pub ownership, Arangio told PubTIC it was nearly a case of now or never.
"I've been with Lion my whole working life, starting as a sales rep with Swan in '92. Working three years as NSW regional director before my national role, I got to know the main players and developed an entrenched love for the industry.
"After nearly 25 years with Lion, I decided if I wanted to stay around pubs I need to have a go myself."
The former National Field Sales Director was looking for a promising operation where he and his actress-performer wife could relocate their two boys, Jimmy (3) and Angus (10 months), within reach of Sydney and work opportunities for Marney (McQueen).
"We had to be patient, as we had a number of criteria," explains Arangio. "Wyong ticked all the boxes, so we're moving up there boots and all."
The discreet off-market sale was managed by CBRE Hotels' Ben McDonald and national director Daniel Dragicevich, who acknowledge favourable investment attributes that underpin the first-time buyers.
"As has been reported regularly in recent times, the tightening Sydney market has led to a flurry of Coastal asset sales, as operators continue to understand the opportunities that exist in growing areas such as Wyong," says Dragicevich.
"In the last six months we have sold hotels in Shoal Bay, Newcastle, Wollongong and Swansea, which were all classic examples of these market tailwinds."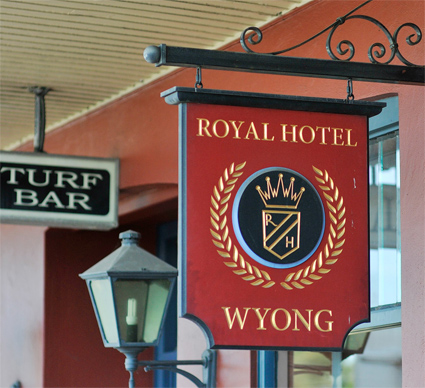 Strategically located adjacent to Wyong train station, Royal Hotel Wyong is billed as "a warm and welcoming space to meet friends and enjoy fantastic live music and entertainment". Arangio plans to completely live the life.
"We've got lots of ideas, but I'll reserve judgement until we get in there.
"The whole area is booming. This is not a quick hit-and-run for us, it's a long-term investment and the start of something really quite exciting.
"I'm looking forward to really tapping into all things the Central Coast has to offer, and truly embracing the community."