Accountant-turned-publican James Sneddon is looking to revolutionise the medical industry, once he finishes giving away his pub in the mother of all trade promotions.
Sneddon began his working career on the books, before three years ago quitting accounting to pursue his dream of owning his own bar, opening Das Hund Haus (The Dog House) German bier café, in Hamilton, just north of Newcastle.
The pub offers 'big Bavarian biers in the great outdoors' courtesy of its 50-seat bier garden and eight taps, with German-style signature dishes such as pork knuckle, and $2 Tuesday schnitzels. Patrons are invited to "bring the kids and/or the dogs".
But Sneddon has another dream.
Engaged to a practising physiotherapist, he recognised a need in the medical market around the fact that so few Australians actively get tests to protect themselves against STIs (Sexually Transmitted Infections). Many preventable diseases could be eradicated with widespread rapid diagnosis and treatment.
Reluctantly parting with his beloved 'bier garten', he has recently launched and is looking to expand Stigma Health – a new online business, providing referrals to a pathology clinic without the 'Stigma' of a face-to-face visit to the GP.
In an effort to raise the seed capital for the new venture, Sneddon is conducting a (trade) promotion that will award one lucky winner the deeds to Das Hund Haus.
For $25, entrants are technically purchasing a two-for-one voucher at the pub. The voucher purchase grants them five entries to a draw to win the business, which will be done electronically at random, and adjudicated by an independent arbitrator.
The lucky winner will also receive $30,000 in cash to kick-start taking over operations.
The business reportedly turns over around $600k annually and the former accountant values it around $200,000.
Filing the necessary paperwork with Liquor & Gaming, he was aiming for 2,000 entries (at $25 each) with an average spend of $150 per entry voucher, totaling gross revenue of $350,000.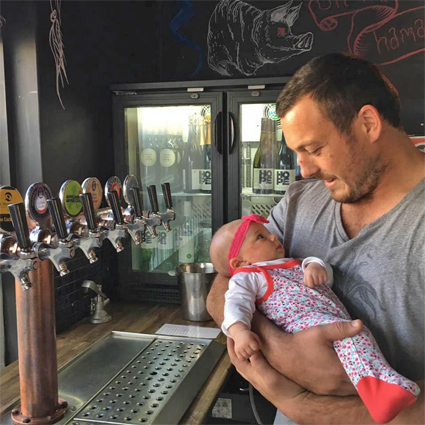 "The promotion is going really well," Sneddon told PubTIC.
"We are nearly up to 2,000 entries and have sold in eight countries, mostly to ex-pat Australians – which is great, but I don't see all of them coming in to use the deal!
"Anyway, we have until the end of August. I'm looking to hand it over in September."
Sneddon reports that currently less than half a million Australians are tested for STIs each year, although the sexually active population could be as high as 10 million.
Although Stigma has thus far referred just a few hundred people, he hopes to rapidly grow that figure to around 5,000 per month by the end of the year, and in time introduce other 'stigmatised' services.
"NSW Health has already approached us about tying in with them," he says. "We are not trying to replace clinics, but there are a lot of people that don't like to go to them for sexual health checks.
"We hope mental health could in time be part of Stigma too. This kind of service has the potential to save lives and change aspects of the medical world.
"Stigma will likely take a couple of years to get off the ground, but I have been in this game now for six years, and owned this venue … there will be a break, but there will always be a thought in mind for the next thing in hospitality."
Entry to the competition is managed HERE through Sticky Tickets.