Following the widespread success of Iron Jack last year, Lion is rolling out a full-strength version to further the stable of the brand.
Lion trademarked Legendary Brewing Co. (LBC) in 2017, coloured with stories that are "fictional but familiar".
The original Iron Jack out of LBC is a mid-strength lager that sold over 16 million litres in its first eight months – more than Crown Lager, Stella Artois and James Squire 150 Lashes – making it the biggest beer launch in Australia in a decade.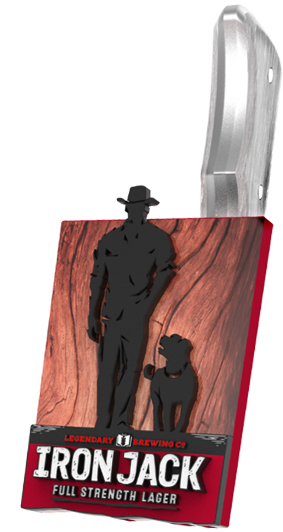 Its new brother, Iron Jack Red, comes in at 4.2 per cent ABV, described as "pale malts balanced with the aroma from a light dose of Saaz hops".
It has the additional appeal of being preservative free, and 30 per cent less carbs than regular full-strength beers.
The new brew was launched last week at 3 Blue Ducks, in Rosebery, with brand ambassador and Australian sporting identity Nick 'Honey Badger' Cummins onsite, speaking of the brand credentials of integrity and mateship and achieving "good bloke status".
"The everyday bloke of today enjoys spinning a yarn and some of them are even true. Iron Jack has tapped into that," says Cummins. "It's a great tasting beer for those who are comfortable in their own skin. It's a beer for men who are unapologetically themselves – and that's refreshing."
The name is a nod to the Australian legendary outdoorsmen, and the reverence they enjoy amongst the public.
"It's about recognising that the role of the modern Aussie male is evolving, but those old school traits are still as important now as they used to be," offers Amy Darvill, Lion's contemporary portfolio manager.
Both SKUs are to be available in draught, as well as 330ml bottles and 375ml cans. The full-strength will be available to the public from 16 July.
Lion has doubled the media spend behind Iron Jack in order to further drive awareness. The launch will be supported by a new brand campaign and TVCs, centred around the message of 'Thirst Crushing Refreshment'.