Rockpool has taken another step today on its expansion into Queensland, opening Bavarian Beerhaüs at the heritage-listed Royal Snack Bar with a weekend of "carnivalesque escapades".
Bavarian Beerhaüs is the Group's third new venue this month, following The Bavarian opening in Rouse Hill and the Munich Brauhaüs on Stanley Street Plaza, also in Brisbane.
The new venue has 40 beers on tap, and a line-up of local craft brewers that is a first-of-its-kind for Queensland, including house brews by Rockpool's Urban Craft Brewing Co., as well as Australian craft beers by Hope Brewhouse, Green Beacon, Newstead, Stone & Wood, Burleigh Brewing Co, Young Henry's, and New Zealand brewery Monteith's.
There are also exclusive beers from legendary Californian craft brewers Lagunitas and Goose Island, plus the usual complement of pure German draught beers, by the likes of Löwenbräu, Franziskaner, Stiegl and Hofbräu.
Some of the cocktail line-up also features craft beers, beside the more traditional espresso martinis on tap, a large range of schnapps, and huge, frozen Margaritas in the tradition of Sydney's El Camino Cantina.
The menu brings 'haüs' specialities including smoked pork belly and BBQ coffee spice-rubbed pork ribs, alongside the chain's classic Bavarian dishes, and the Royal Snack Bar, offering dagwood dogs and chicken wings by the half-kilo, with complimentary Snacks daily with drinks from 4-6pm.
Launch weekend will present a beer carnival and fun fair from 11am Saturday and Sunday, with roving fire twirlers, feathered showgirls, hula-hoop performers, stilt walkers, magicians, tarot card readings and a circus-themed photo booth, fronted by the Beerhaüs' own 'Ringmaster'.
And six brew masters will be behind the bar, hosting Meet the Brewer sessions, showcasing their brews, running competitions and raffles and giving away prizes, with a ceremonial keg tap every hour on Saturday.
The Bavarian Beerhaüs is located within the Showgrounds' refurbished dining precinct, King Street Co-Op, and seats 350-pax inside, and another 150 guests in the beer garden, which runs the length of the building.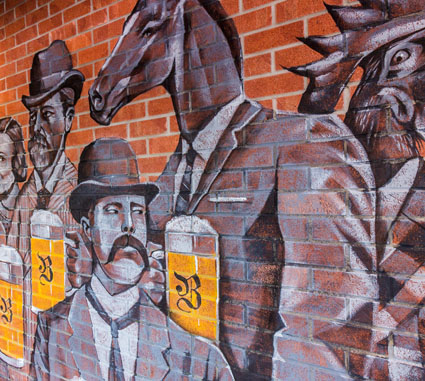 The interior's design pays homage to the building's history, with a "post-industrial edge" featuring concrete finishes, bare brick walls, an exposed ceiling structure and vintage-themed artwork and accessories.
"We're heroing beer, both classic Bavarian and cult craft brews, and partnering them with a playfulness that is quintessential to the Queensland way of life," says Rockpool CEO Thomas Pash.
Rockpool reports The Bavarian at Eagle Street Pier as one of its top-performing venues.
The Group has begun investing heavily in the Sunshine State, so far bringing South Bank, now Brisbane Showgrounds, and The Bavarian at Toowoomba's Grand Central Shopping Centre in June, representing an $8.5 million outlay, creating 200 jobs.
"Queensland is a solid market and we anticipate it will continue to improve throughout 2018 and for the next few years, bringing with it strong jobs growth for hospitality workers," adds Pash.
"We would like to bring other key brands into the Queensland market, including Fratelli Fresh, El Camino Cantina and Spice Temple, if we can find the right sites.
"Our plans also include bringing 10-12 more Bavarian restaurants to the state over the next two years."
The Bavarian Beerhaus "good beer and good times" will continue after the launch weekend will daily specials: Monday's All-You-Can-Meat platters + ping-pong tournament, Tuesday's $2 mini hotdogs + trivia, Wednesday's 10¢ wings + comedy night, Thursday's $20 schnitty and beer + shuffleboard showdown, Friday's foosball tournament + Friday night footy, live bands and performances on Saturday, and Sunday Funday's giant adult games + free hotdog with every stein.