The indomitable Rockpool Group has expanded on its Brisbane footprint, opening Munich Brauhaus Brisbane over the weekend.
The two-storey Bavarian bier hall experience is set in the renovated, heritage-listed Allgas Building on Stanley Street Plaza, in South Bank Parklands.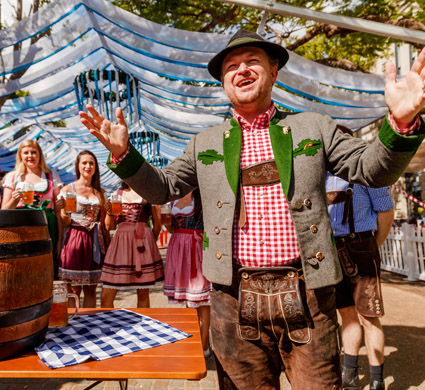 On Friday (4 May) a street parade kicked off festivities at 5pm, followed by the traditional keg-tapping ritual to launch the Oktoberfest-themed party.
Renowned Bavarian breweries, such as Löwenbräu, Hofbräu, Franziskaner, Paulaner, Spaten and Steigl began pouring from the 36 taps. A total of 17 draught biers are on offer, including lines by the group's own Urban Craft Brewing Co (UCB), plus an extensive range of bottled Bavarian brews.
For the week of the launch, UCB is bringing in 250 kegs of Bavarian biers adhering to the ancient German Purity Law – Reinheitsgebot, which means biers can only contain the four ingredients of water, hops, malt and yeast.
The venue seats 900 pax, plus a big outdoor "bier garten", at long communal tables with bench seating, and stages for bands and performances. The menu serves up Bavarian classics, the likes of crispy pork knuckle, crackling pork belly, schnitzels, German and gourmet sausages, and shared platters, with bar snacks of salted pretzels, chicken wings, "haus pickles", and build-your-own salads.
Rockpool Group (formerly Urban Purveyor Group) boasts a huge portfolio of 60 venues built on 16 brands. Amongst these is the Bavarian Bier Café chain, with eight outlets, including the Gold Coast and Brisbane.
The Munich Brauhaus brand already counted a venue in the Group's home base of The Rocks, as well as at Melbourne's South Wharf.
"Brisbane Munich is pretty exciting … 1,100 total seats, and opened up with a massive weekend," relayed Group CEO, Thomas Pash.
"We want to give our guests the ultimate Bavarian experience, which means providing the largest range of biers from some of Bavarian's oldest and most highly-regarded breweries, including traditional wheat biers, lagers, pilsners and dunkels."