The annual Variety Club race to raise money for children is gearing up for its 2018 expedition, joined by pubs and hoteliers including Iris Group's Sam Arnaout in a vintage Valiant.
The Newcastle Hunter sub-branch of the AHA NSW has been a major sponsor of the Variety Bash since 2013, to date backing more than 80 cars, involving at least 100 hotels, and raising more than $550,000.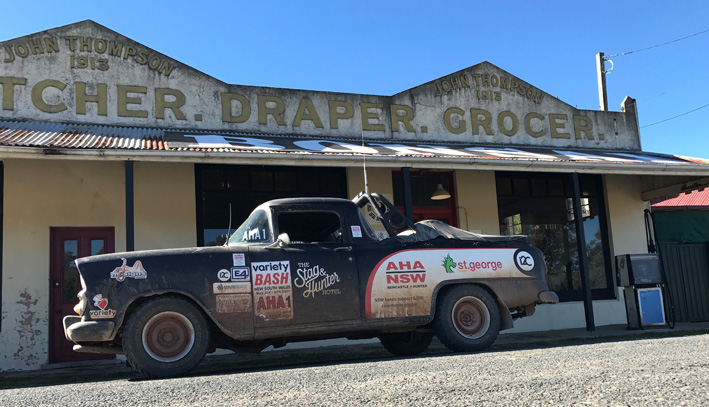 Each year participants drive 2,000 kilometres on a round-trip leaving and returning to Newcastle, in cars that must be over 30 years' old, in support of sick, disadvantaged and disabled children in NSW.
Participants must raise at least $4,000 per car to enter. Money can be raised through sponsorships or donations, and raffles and other fundraising initiatives take place throughout.
"AHA members have supported the Variety Bash event almost since its inception, with member hotels sponsoring, supporting and participating in the Bash and other Variety events," says AHA Newcastle Hunter spokesperson Mick Starkey.
"AHA Newcastle Hunter Sub-Branch has provided $250,000 in sponsorship for the NSW Variety Bash, while AHA member entries and sponsorship have contributed a further $300,000 to the cause since 2013."

The 2018 journey will begin Sunday, 20 May, with more than 80 cars expected to point the wheels toward Glen Innes, then Narrabri, Forbes, Griffith, Orange and Mudgee. Hoteliers taking part this year include Brett McGovern (Snake Gully Hotel), Mick Potts (Colliery Hotel), Dean Trengove (Mulga Hill Tavern), Barry Bradley (formerly Burwood Hotel), Mick Starkey (The Stag, and Hunter Hotel), and a number of AHA Associate members.
Teams will make stops along the way to visit and donate to sick and disadvantaged children.
Manning the rudder of a 1968 VC Valiant will be honorary Novacastrian Iris Capital's Sam Arnaout, beside team captain Adam Leecy.
Arnaout is on a mission to raise $50,000 for Variety and the children.
"It's a big target for a truly great cause," he explains. "And as supporters of each others' businesses, I am confident that together we can all dig deep and hit a target that will make a significant difference to families in their time of need.
"I would greatly appreciate your generous donation to Variety, but the kids and families will appreciate it more. For my part, I will be travelling around to some less fortunate parts of the State in a modified old Valiant hoping to bring a smile to the kids we will see along the way."
Fully tax deductible donations to the 2018 Variety Bash fundraising can be made here at Everyday Hero.