Jaime Wirth and associates have taken on a third operation – picking up the lease on the Old Fitzroy in the active waterside precinct of Woolloomooloo.
The Old Fitzroy is a century-old corner local in the narrow backstreets of Woolloomooloo. It contains the somewhat unique feature of The Old Fitz Theatre – a popular live theatre venue that has enjoyed a near-cult following since its inception in 1997.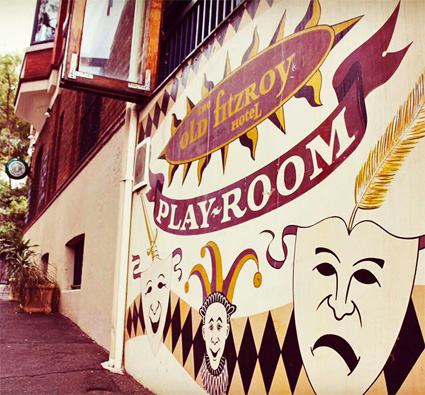 It also holds an unusual but respected pedigree as a foodie venue, once a pioneer of the laksa craze of the naughties.
Since on-selling his Drink n' Dine portfolio to Dixon Group (now Australian Venue Co) in early 2016, Wirth planned a come-back into pubs, finally settling on Enmore's The Duke in October 2018, with partners Joel Amos, Mike Delany and Chris Deadman. The group went on to quietly acquire Waterloo's George Hotel in recent weeks, with a new look planned for late March.
The Old Fitzroy has been owner-operated by the Pasfield family for close to two decades, and looking to retire, Gary Pasfield agreed to a new lease with Wirth and partners.
Taking the keys today, Wirth says they are still determining the details except to say they plan to be in full swing by mid-April.
"We've had such little time onsite to figure it out, we don't really know. Maybe we don't close at all, maybe we close for 5 days … it's kind of good to figure things out and trial it a bit.
"It's great as it is. It doesn't need a massive renovation or change in direction. The front bar, we're not doing much at all. Upstairs and out the back, we'll kind of fix that up a bit, try and get the food right, that's the main thing."
While the shape of the menu remains unknown, the kitchen will certainly get a re-vamp, removing the once prized wok burners and improving the layout. Chef Nic Hill will oversee the line-up, bringing experience including Sepia and Michelin-starred London restaurant The Ledbury.
The pub boasts a rotating menu of 22 taps, providing room for staples and more varied lines, plus an established wine program.
Wirth has spent years living in the area and feels familiar with what's on offer – and not – and plans to build on what he sees as gaps in the offering. The theatre, which is independently run by outside operators, with acts already booked through most of the year, will remain unchanged.
As a quirky local with an eclectic past, the pioneer of the successful small bar-style Drink n' Dine pubs says he is feeling and literally hearing the pressure to retain its "old man sticky carpet drinking joint" feel and "not f*ck it up".
"It's just so beloved," he says. "I think everyone thinks we're going to do Mexican food and change it up too much.
"We're not there to change it, just freshen it up a bit, give it some new life. We're doing it because we love the pub."