The Marlow family has unveiled its big renovation of the landmark Crossroads Hotel, marking a new direction for the Casula pub.
The Marlow Hotel Management Group (MHMG) has 11 venues across NSW and Queensland, including the large-format Crossroads Hotel in Sydney's south-west, just 35 kilometres from the CBD.
Recognising the shifting demographic and increasing population density, the Group has executed a comprehensive remodelling of the Hotel, with a stylish new family-friendly bistro and bar, and attention to value-for-money offerings.
There are also five modern new function spaces, catering to intimate gatherings of 20 up to large events of 300 people, and fulfilling an increasing need in the burgeoning region.
"The Casula area has become the gateway to the new south-west, and has had massive growth over the past few years with lots of families, singles and couples residing in the local area," Jason Marlow told PubTIC.
"We really wanted to offer the local community a modern and fresh Bistro that delivered high quality yet affordable meals. With the large population boom over recent years, we believed this to be the most opportune time to undertake the extension."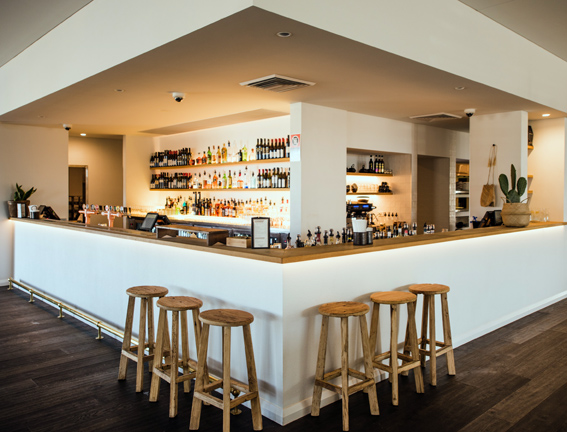 The new décor sports recycled European timber furniture, booth seating, Malawi chairs and feature light fittings, amongst the latest sports viewing and TAB facilities and live music.
The new menus include enticing gluten-free options, light lunches and children's meals, alongside a big selection of draught beer, cocktails and wines.
Opening the new doors in August, the Group already reports big increases in patron numbers and functions, and bookings for Christmas parties.
Pointing to a focus on patron experience, MHMG director Paul Camkin believes they have hit the mark.
"We are really confident this fantastic offering will continue to be enjoyed by the south-west and wider Sydney community."
MHMG also owns or operates under management the Crown Hotel Surry Hills, Rose & Crown Parramatta, Coniston Hotel, Oaks Hotel Albion Park Rail, Intersection Tavern, Kings Park Tavern, Royal Hotel Carlton, Bank Tavern Kogarah, Corrimal Hotel, and Boathouse Tavern in Coomera.