Two record-holding British pubs have been unwittingly brought together, offering visitors to Stalybridge the pub with the longest name in the country beside the one with the shortest.
In 1880, in Stalybridge, Greater Manchester, The Old Thirteenth Cheshire Astley Volunteer Rifleman Corps Inn opened its doors.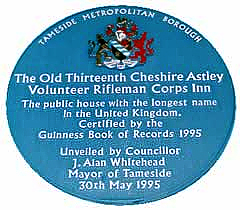 After generations of trade, in 1995 it was formally acknowledged by Tameside Council and the famous Guinness Book of Records for its exquisitely verbose moniker.
In a succinct form of balance, Stalybridge conversely saw the Q Inn open in the late 1980s, drawing recognition as the shortest pub name in the country.
But in 2016 the long-winded pub – known locally as the more manageable The Rifleman – was forced to close, leaving locals thinking they had lost for good that which had put their east-Manchester county on the map.
It relinquished its lofty honour to the likes of London establishments the 'London, Chatham and Dover Railway Tavern' and the 'Ferret and Firkin in a Balloon Up the Creek'.
Earlier this year, husband and wife Nigel Baxter and Sarah Farrer-Baxter determined to open a new public house in the town.
"The old owners were two of my friends and when they told me I could take the name I was delighted," says Farrer-Baxter. 
"The Rifleman is such an important part of this town's history, so everyone was gutted when it closed down.
"Now the name can live on, which I think is something all the locals can be proud of."
The fact that their new pub is just two doors from the concise Q Inn, she says is "such an amazing coincidence".
The couple plan to contact Guinness World Records to have the pub's name reinstated in the Books.