Lion has expanded on successes in Australia with the outright purchase of leading London craft brewer Fourpure.
The craft beer market in the UK is one of the largest and fastest-growing in the world, currently representing around five per cent of global volume.
Founded in 2013 by brothers Daniel and Thomas Lowe, Fourpure is one of the recent success stories, known for approachable styles and its flagships, such as the World Beer Cup medal-winning Pils Lager, and popular Session IPA.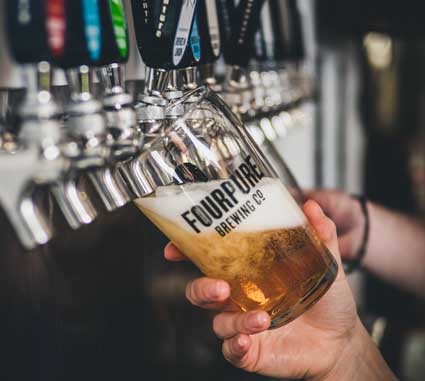 Fourpure's pub-brewery is a proud part of the renowned 'Bermondsey Beer Mile' craft brewing hub of south-east London.
CEO Daniel Lowe says they have been looking for the right investment path to expansion for some time.
"While in four short years Fourpure has grown to become one of London's leading independent modern craft brewers, we knew we couldn't take the next adventure alone.
"We met Lion towards the end of our process after a wide range of funding options had been considered, and quickly realised we had a shared vision and values."
Lion is already active in the UK and Europe, distributing a range of Australian and New Zealand craft beers and fine wines. Lion Global Markets managing director Matt Tapper met with the brothers and shared their thoughts and history on cradling up-and-coming breweries.
"The guys have done a superb job in getting the business to where it is now, and we love how innovative they've been in both beer styles and the way they have positioned the brand," reports Tapper.
"We're making real progress in making our craft beers like Little Creatures available in the UK and Europe, and we see some great opportunities to work together to get these and Fourpure's brews in the hands of more beer lovers."
Lion report the Fourpure acquisition is looking to the potential of the UK market and channelling the appropriate resources for its success. There are no immediate plans to distribute Fourpure beers in Australia.
Both brothers will be staying on at Fourpure, with Daniel Lowe continuing as CEO.