Coles has completed its exit from NSW pub operations, selling the Northlakes Tavern to the pub partnership of Arthur Laundy and Mark Malloy.
Moving to minimise or remove itself entirely from its PR burden of association with gaming, Coles listed the leasehold interest in the Tavern in Charmhaven in February.
However, the freehold owners of the site, investment group ISPT, agreed the asset would have greater strategic value if the interests of the two companies were combined to offer the freehold going concern.
The region has become some of the hottest property in the Australian pub market, spurred by widespread infrastructure spending and population growth, exacerbated by lack of opportunities in Sydney.
Laundy has done several deals with Coles pubs previously, and brought ongoing business partner Malloy into the fold. He and Laundy's son-in-law Nick Tindall will manage operations.
"Both Mark and Nick have got some things in mind they'd like to give a lash," discloses Laundy. "We're largely taking over the same staff. We'll concentrate on food and see what we can pick up in the hotel.
"Mark is quite excited about it. We feel as if we can achieve something there."
Malloy is indeed animated about prospects at the Northlakes, in an area he describes as "off the hook" in development, with little in the way of competition, just two hotels servicing a catchment of 45,000 residents.
"I'd say the pub offering in that part of the coast is under-offered in terms of entertainment and food. The first thing I'm doing is going through the licence and make sure we can provide entertainment."
Following a big operator with less flexibility to tailor a customised local operation, Malloy was full of praise for the legacy of his mentor and the transaction with Coles.
"It's an amalgamation of two pub families that are front-end operators," he suggests of the partnership.
"Without Arthur I couldn't have done it, it was too big a ticket price for me on my own. Nick was the intellectual firepower. He's the background guy who gets it done.
"[Coles] were good people to do business with. They're honest, they're transparent and I think that both parties have mutual qualities, and that's probably why we did do business together and hopefully will continue to do business in the future."
The sale – sources suggest was circa $20 million – will see the Laundy-Malloy business assume operations, with settlement due next week. Coles will remain as long-term tenant of the First Choice Liquor store, providing secure rental income.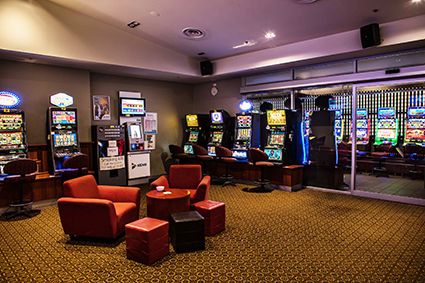 The pub itself boasts multiple bars, bistro, and 24 gaming machines, in Band 3, not all in smoking solution.
"With Coles taking a long term 'lease-back' of the bottleshop – considered one of the strongest performers in the State, the new owners can focus on generating superior returns through the bar, gaming and food departments, currently generating weekly sales in excess of $80,000 per week," offers CBRE Hotels' Ben McDonald, who brokered the transaction.
"The sale of the Northlakes Tavern highlights the buoyant demand for quality pub assets that offer a strategic value proposition or underutilised earnings profile. In this case, both of these were key factors in attracting a long, diverse list of buyers to the opportunity."
Both Laundy and Malloy find themselves neck-deep in opportunity, including the former's new pub-brewery at Marsden Park, on track to open early 2018, and another new addition to the Malloy clan, with number three turning five weeks' old, marking "three kids and three pubs in three years".
Laundy has also today resumed operation at three of his pubs leased to ALH – the Woolloomooloo Bay, the Horse & Jockey at Homebush, and the Farmers Home, in Wagga Wagga. The demands meant he didn't have time to personally inspect the Northlakes, and hasn't seen it since its previous incarnation as Sylvesters, on the other side of the site's driveway.
"He believes in Nick's intellectualism, and he hopes that I'm honest," quipped Malloy.
Looking to take back the Horse & Jockey, close to where he lives, a deal was struck to reacquire all three operations from ALH, which will again be run under Laundy Hotels, with Sean O'Hara overseeing Wagga.
Laundy says he plans to spend a lot on the Woolloomooloo Bay, which he sees as a prime site that can really add to its area.
"There's a bit happening. I can't afford to get old."