The idyllic Arcadia Village Hotel on Magnetic Island has come to market, offering a sprawling freehold going concern or booming leasehold opportunity.
The Arcadia Village occupies a massive 1.07Ha (10,070sqm) site, overlooking the Coral Sea, a 20-minute ferry trip to Townsville. The Island has approximately 2,500 permanent residents, but holiday periods see this number increase to 10,000.
The hotel incorporates multiple bars, restaurants, a commercial kitchen, large beer garden, function centre, bottle shop, TAB, gaming room with 13 EGMs and approval for nine more, and KENO. There is also a resort swimming pool, and outdoor gazebo with stunning oceans views, and retail tenancies generating $150k per annum in rent.
Deborah McGill and her parents have owned the property since 1997. A qualified accountant, she lives close to the business and has managed the financials, while operating other business interests with her husband.
"We've leased out the running side of it, but mum and dad just want to retire from the whole thing," she explains.
"It's a beautiful spot. Lots of people like holidaying here."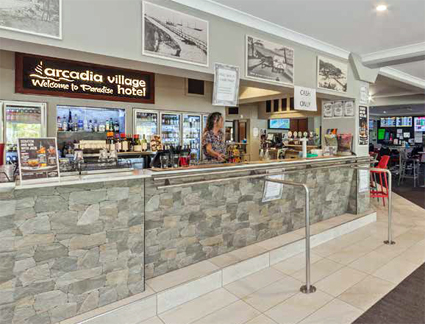 While the business already holds space for greater operations in functions and events, with 570sqm unused on the second level, much of the big landholding is undeveloped, plus another adjacent undeveloped site brings huge opportunity for the right party.
The freehold going concern is showing a return circa 17 per cent and projected growth of 26 per cent this year to revenue of almost $13 million, more than half from gaming, and with the clear potential of a hands-on operator or eager developer. The retail component shows 10 per cent ROI.
Offers will also be considered on just the leasehold business, to ensure the Hotel's ongoing success.
The owners have put the asset to market through CBRE Hotel's Shane Mullins, looking for $6.3 million for the freehold operation, representing a 13 per cent yield.
"The historical figures are very solid, with an opportunity to grow the existing operation to increase numbers, extra functions and gaming."
Townsville, just eight kilometres away, is being seen as a town on the move, growing 10.7 per cent last year, with infrastructure projects topping $3bn, bringing future potential to Magnetic Island.
"The Townsville region population is estimated to increase from 236,629 in 2015 to 361,098 in 2036," adds Mullins.
"Also, the economic forecast shows GRP (Gross Regional Product) will increase to near $20.0 billion over the next 15 years."
The Arcadia Village Hotel is being offered for sale via Expressions of Interest, closing Thursday, 12 July.