Marking a highlight of a career spanning more than five decades, Arthur Laundy yesterday celebrated construction beginning on his Marsden Park Hotel & Brewery by planting a ceremonial shovel in the ground.
Stakeholders and representatives of key suppliers to Laundy Hotel Group gathered on a plot of levelled dirt in Marsden Park for the official beginning of the large-scale project, scheduled to take 12 months.
After a welcome introduction, Laundy made a moving speech on what the project – his very first greenfield pub build – means to him and the Laundy heritage.
"I don't know if there was a turning of soil at the Twin Willows, if there was, my father was about the same as me – he forgot to invite me. But I can remember how proud he was."
Spread over 5,900sqm, the pub will offer a diverse variety of spaces, with family dining and kids' playground areas, public bars and lounges, along with outdoor sports and gaming areas. The upper level will hold a function area boasting its own bar and kitchen, for weddings and corporate events of up to 400 pax.
The design by Altis Architects and Northrop Consulting Engineers incorporates an exposed steel structure, and a large expanse of operable glass walls bolstering the indoor-outdoor spaces and providing district views.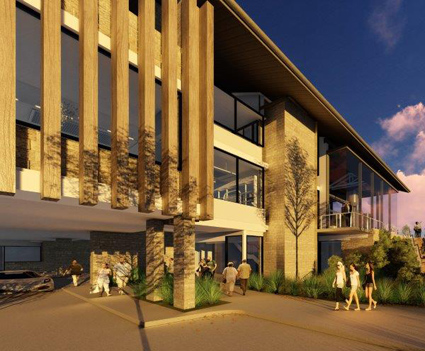 And importantly, there will be a two-level brewery producing up to 15,000 barrels annually, with a large atrium allowing the brewery operations and tasting bar to be visible from all areas of the Hotel. The brewery will be run by QBrew's Daryl MacGraw, with master brewer Bruce Peachey producing the recipes.
"I've always had in my mind to build a brewery, and more importantly now than in the past, because the majority of my hotels are in the western suburbs," explained Laundy. "I wanted to build something where I could produce a beer that would – for want of a better word – be a price-buster."
The build follows several years planning with FDC and Sydney Business Park, and the token turning of dirt represented an important milestone for all involved.
"With the sheer volume and diversity of growth in Marsden Park and Western Sydney, this development will become a destination venue for a rapidly growing region – a region that is playing an increasingly important part of Sydney's future," says FDC project manager, Peter Stait.
"The Laundy Hotel Group is making a big investment in the future of Western Sydney, and FDC Construction & Fitout is proud to be able to help them realise this long-held goal."
While his four children were unable to attend (on short notice) Laundy was joined by his three grandchildren and long-time assistant Robyn Gumbley.
"This has been my dream for a very, very long time. God willing, in 12 months' time we'll see that dream come true. I thank you all very much for being here.
"Now, where do we dig this dirt?"