Jaime Wirth and Co have unveiled their tweak modernisation of the time-warped George Hotel in burgeoning Waterloo, serving authentic Mexican and a huge selection of natural wines.
The corner of Elizabeth and Wellington Streets in Waterloo used to be a small corner pub flanking three terraces. In the early 60s Tooth & Co purchased the lot and in 1965 opened the stark, almost modernist George Hotel.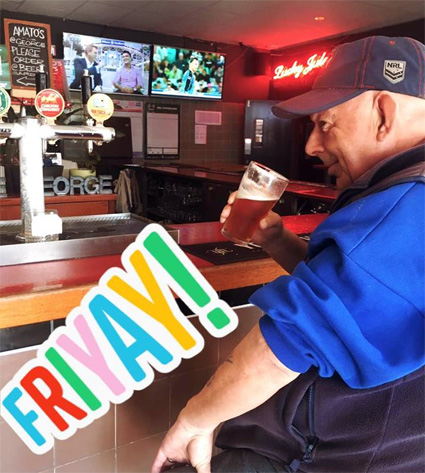 The two-storey red brick pub is skirted on street level with turquoise and royal blue tiles that almost embody its kitsch retro offering. For more than 50 years it has famously sported the same interior and colour palette, from an era that spawned The Thunderbirds, pouring staples such as VB and Reschs.
Growing from their successes at Enmore's The Duke, the co-creator of the former Drink n Dine concepts continues his partnership with chef Toby Wilson (Ghostboy Cantina) and founder of thriving natural-wine merchant Drnks, Joel Amos.
The exterior has escaped much change, with merely the addition of signage for the restaurant Taco King, and for the Drnks bottleshop, which is the online-born company's first physical store and located in the former gaming room.
Taco King is inspired by Wilson's many trips to Mexico, aiming to produce authentic tacos, served in proper house-made corn tortillas. The Taco Al Pastor (spit taco) consists of pork neck marinated in a house-made adobo sauce, slowly roasted on the spit and carved off to order. Wilson also offers a quality fish taco, being fried pieces of gurnard in a soft, warm tortilla, with shaved cabbage and radish.
And topping off all tacos is the often-missing element in tacos outside North America, a fresh-made tomato salsa verde, bringing the signature Mexican acidity and bite. There are a further four house-made salsas available, in a range of heat levels.
There is also a selection of quesadillas, tostadas and tortas, and snacks such as corncobs covered in chilli, cheese, mayo and lime, and the 'Ears & Nuts' – a mix of chilli peanuts and crisp pigs ears.
The restaurant is within the beer garden and rear dining room, and diners can grab something from Drnks to enjoy with the meal, for a $20 corkage.
Wilson says natural wines are perfect for the Mexican food, cutting through the fat and salts in the meat. The George will have available the full Drnks selection of more than 400 lines, all fully natural and produced by family-run wineries.
In the front bar, the TAB cage has been converted into a DJ booth, but little else has changed, including the time-honoured beers emanating from the taps, although a crafty local-based selection has been added, along with a straightforward cocktail list, and natural wines available by the glass.
In February the team expanded further, taking on Woolloomooloo institution the Old Fitzroy Hotel. But Wirth's own airs on the George had begun years ago, while he was running the nearby Norfolk. 
"I'd always loved the building, the look of the building, and I'd go past it and it was always dead, for a very long time," he says. "I'd pop my head in and never say anything but think 'who owns this place?' How does this work? What's the set up. It had gaming machines, but didn't seem like it had a massive gaming den either, just a quiet pub.
"There weren't that many pubs built in that era, that's why it doesn't look like a normal pub. I feel like it's never been busy, and it's never been renovated, so a lot of the original feel is intact, like the tiles, and it's kind of got this weird stained-glass window situation, and the panelling and everything – I love that shit."
After a successful launch reveal last night, the new incarnation of the George is today open to the public.