Sam Arnaout's Iris Group has further cemented its footings in booming Newcastle, securing Campbell and Clare Rogers' portfolio in the biggest deal seen in the area.
The Rogers acquired large-format Hamilton pub the Sydney Junction Hotel in 2014, building its successes to go on and win the AHA NSW Award for Best Casual Dining in 2016. They progressed to buy the Argenton, around 20 minutes' west, then the Gunyah, around 20 minutes' south, for a commanding presence in the area.
Iris has been undertaking extensive work north of Sydney, in the heart of Newcastle at its massive restoration and residential project, reviving Australia's oldest operating winery, Dalwood Estate, and in September adding the nearby Peden's Hotel, in the Hunter Valley.
Arnaout has now furthered this with the circa $30 million acquisition of the Rogers portfolio in an off-market transaction through CBRE's Ben McDonald, in conjunction with Moore & Moore's Dean Moore.
"The acquisition provides Iris with immediate scale and a significant hotel footprint in an area where they have already made a significant investment, through their $700 million East End mall redevelopment," observes McDonald.
The Group has increasingly sought opportunities where hospitality can be combined with development potential, for a cash-positive asset with future potential to multiply in value.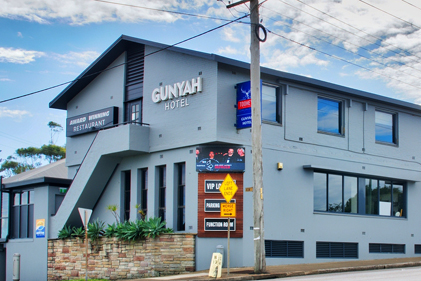 The Rogers collection counts a collective 55 EGMs and combined site area of 7,263sqm, including the waterside Gunyah Hotel, which holds new drafted plans for a larger gaming room, a beer garden and alfresco dining area, and improvement to the first-floor function area.
The Argenton has only recently reopened from its own extensive refurbishment, still in its honeymoon period, with tax benefits pending.
But Arnaout says other than final touches to the Argenton, Iris has no immediate plans for further development at any of the sites.
"What we've bought, in the portfolio, is essentially a collection of A-grade assets in the region that are good fundamental pubs we believe take good position in their relative and respective communities. And that's what we'll build on."
Amid strong population growth in the precincts, particularly Lake Macquarie, near the Gunyah, Iris is capitalising on the need for both places to live, and to go out, in a "very bright" future envisioned for the area.
"They've all got good zoning, underlying land value, and machine compositions, and they've all got really good trading upside within them," he says. "We feel that what we've acquired is a collection of hotels that are primed for future earnings, and they're a good bolt-on to our portfolio.
"With our regional expansion and the development we're doing in the East End, we're redeveloping and reshaping the city. It makes sense we have pubs in the area as well.
"We're very excited about having a good footprint in the region now."