The best of the best in Victorian hospitality for 2018 were crowned this week at the AHA Victoria's Awards for Excellence.
A contingent of 1130 guests and nominees gathered in The Palladium at Crown Casino on Tuesday night to witness and celebrate the winners of the 40 award categories.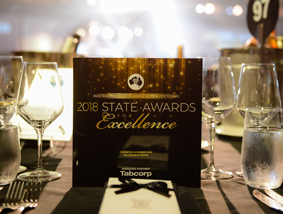 The Awards are in their third decade of a pursuit to recognise hotels and pubs in Victoria that demonstrate excellence across a range of disciplines.
Top honours of Overall Hotel of the Year went to Hophaus Bier Bar Grill for the Metropolitan award, and Oscars Hotel and Café Bar in Ballarat for the regional prize.
The increasingly popular People's Choice Award, now in its third year, was available to 123 nominees, garnering 5540 text votes to count the Grand Hotel Warrandyte as winner for 2018, coming in just 28 votes over second place.
Looking at multiple nominations across categories for its celebrated collection, including previous winners of Hotel of the Year, Garden State Hotel, Sand Hill Road took the team prize for Best Group Operator.
The coveted Nikakis Award, established in 1997 in memory of Nick Nikakis to recognise those whose "sustained performance and commitment serve as an inspiration to all in the industry", was awarded to Steve and Viv Phelan, owner-operators of the Flowerdale Hotel.
Quintessential country publicans, Steve and Viv threw open the doors of the pub during the Black Saturday bushfires of 2009, turning the front bar into a triage centre, and welcoming locals in from the devastation around them – even as the fire was on their doorstep.
The Palladium heard the approval of recognising the long-term contribution of the Phelans over the past 17 years.
"The Flowerdale Hotel won the award for Outstanding Community Service and Achievement at the Victorian State Awards for Excellence (2009) and then continued on to win the same award at the National Awards for Excellence the following year," offered the Association.
"The most community-minded hotel in Australia."
FULL LIST OF WINNERS
Nikakis Award – Steve & Viv Phelan (Flowerdale Hotel)
Overall Hotel of the Year – Regional – Oscars Hotel (Ballarat)
Overall Hotel of the Year – Metropolitan – Hophaus Bier Bar Grill (Southbank)
Chef of the Year (CV required) – Chris Bonello, MPD Steak Kitchen, Zagame's Hotel Berwick
Excellence in Service – Jasmine Flemming, Watergardens Hotel (Taylors Lakes) & Daniel Foley, Red Lion Hotel (Ballarat)
Emerging Leader of the Year (CV required) – Francis Degan, Cardinia Park Hotel (Beaconsfield)
Burger of the Year – The Pumphouse Hotel (Fitzroy)
Best Casual Dining – Regional – Oscars Hotel (Ballarat)
Best Casual Dining – Metropolitan – Cardinia Park Hotel (Beaconsfield)
Best Family Dining – Zagame's Boronia Club Hotel
Best Pub Restaurant – Regional – Yea Peppercorn Hotel
Best Pub Restaurant – Metropolitan – MPD Steak Kitchen, Zagame's Berwick
Best Pub Bar – Regional – Apollo Bay Hotel Great Ocean Road
Best Pub Bar – Metropolitan – Woolshed (Docklands)
Best PubTAB – Regional – Zagame's Ballarat Hotel
Best PubTAB – Metropolitan – Watergardens Hotel (Taylors Lakes)
Best Gaming Venue (50 machines or less) – Regional – Somerville Hotel
Best Gaming Venue (50 machines or less) – Metropolitan – The Dava Hotel (Mount Martha)
Best Gaming Venue (51 machines or more) – Regional – Zagame's Ballarat Hotel
Best Gaming Venue (51 machines or more – Metropolitan – Bridge Inn Hotel (Mernda)
Best Keno Venue – Regional – Windermere Hotel
Best Keno Venue – Metropolitan – Welcome Stranger Hotel (Melbourne)
Best Outdoor Experience – The Precinct Hotel (Richmond)
Best Function and Event Space – Platform 28 Docklands
Best Rooftop Experience – The Albion (South Melbourne)
Best Hotel – Pub Style Accommodation – Glenferrie Hotel (Hawthorn)
Best Innovative Retail Space – Queenscliff Brewhouse
Best Sports Bar – Regional – The Grovedale Hotel
Best Sports Bar – Metropolitan – Taylors Lakes Hotel
Best Specialty Bar – Hophaus Bier Bar Grill (Southbank)
Best Presented Beer – Clifton Hill Brewpub & Hophaus Bier Bar Grill (Southbank)
Best Environmental Initiative – Lord of the Isles (Geelong)
Best Hotel Accommodation – Taylors Lakes Hotel
Best Redeveloped Hotel – Food & Beverage – Country Club Hotel (Yea)
Best Redeveloped Hotel – Gaming – Richmond Social
Best Hotel Group Operator – Sand Hill Road
Outstanding Achievement in Training – Zagame's Reservoir
People's Choice Award – Grand Hotel Warrandyte
Best Marketed Hotel – Fargo and Co (Richmond)
Best Live Entertainment Venue – Corner Hotel (Richmond)
Heart Of The Community – Kelly's Motor Club Hotel (Cranbourne)