Industry stalwart the Hurley Group has expanded beyond home state with purchase of Brendan Lawless' elegant Ivory Tavern in Tweed Heads.
NSW publican Brendan Lawless purchased the Ivory in 2017, taking option on the freehold going concern from a Brisbane-based developer. 
The waterside pub counts a bar, bistro, gaming room with 15 PMEs, function space, manager's unit, beer garden and 114 off-street parking spaces, on a big 8,830sqm block on the shores of the Tweed River.
Outside is its 32-berth marina, leased in one line and producing over $200,000 annual income.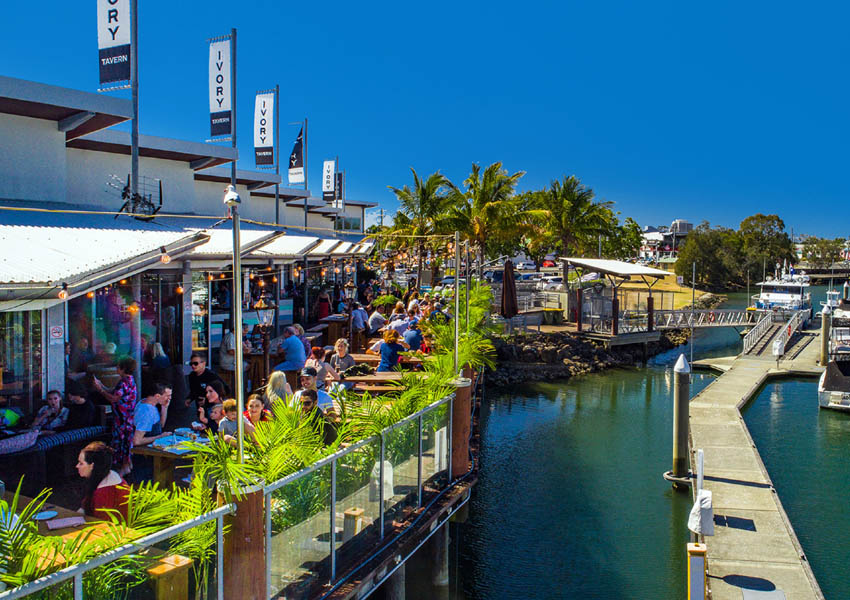 Having built on the Ivory's presence in the tourism region, Lawless determined after 30 years in the industry it was "time to take a bit of a step back" and listed it in February, noting its potential, yet the still under-cooked gaming operation.
"I always saw this pub as a project for me," he spoke of the sale.
"When I first took over the pub it had been run under management for many years and was pretty flat, but I could see that with a fair amount of effort and a tweak to the offering, it just had to work."
Peter and Jenny Hurley have been living the hotel industry for over four decades; Peter purchasing his first pub – the Wudinna Hotel – in 1975.
For 24 years Peter was the AHA|SA President, and served two separate terms as AHA National President. In 2015 he was honoured in global awards by Ernst & Young for his endeavours within and for the industry.
The Hurley Hotel Group operates ten hotels in South Australia, employing over 700 staff, and has long been the beaming face of the pub game in the southern state.
But looking to their own lifestyle, eyeing the NSW north coast region, Adelaide's pub power couple have stepped out of the city of churches.
"Jenny and I are now residents of the area, having purchased a property in Northern NSW," revealed Peter. 
"We are looking forward to the opportunities the Ivory has to offer."
The freehold sale marks another big-ticket east coast transaction, in line with last month's acquisition by Irvin Group of the Coolangatta Sands. 
"Interest in coastal hotel trophy assets continues from all states of Australia, as we have shown now via numerous recent sale campaigns in both NSW and Queensland," notes HTL Property Queensland director Glenn Price, who marketed the Tavern with colleague Blake Edwards.
Price says effective national marketing is key in optimising the result on strong assets, as seen in the Hurleys crossing borders to take on the Tavern.
Competition nationally, particularly out of cashed-up successful hotel groups, continues to drive market pricing on the eastern seaboard.
"Yields are certainly tightening across all markets in NSW and Queensland, due to the liquidity and price parameters of finance currently available," added Edwards.
"Purchasers are behaving more deliberately, in terms of their approach to cashflow-rich assets with strong underwritten property fundamentals."