Hotelier Julian Gerner has secured partnership with expanding developer Steller for the $35 million restoration and expansion of Sorrento's legendary Conti.
Gerner purchased the historic four-storey limestone hotel popularly known as The Conti from long-time owners the Di Pietro family in 2015, along with some adjacent land. After considerable battles with interest groups, earlier this year he secured approvals for a broad-scale residential and commercial development to revive, retain and celebrate the 1875-built landmark, and closed the Hotel in May.
Recognising the project would take expertise and deep pockets the former Melbourne Pub Group director did not have on his own, he engaged CBRE Hotels to market the freehold and development opportunity, offering himself to stay on as tenant.
Nicholas Smedley, managing director of Steller, has built up a $4bn portfolio focused largely on apartment developments, with diversification in the past few years into retail property and retirement.
Smedley had looked at the Sorrento landmark back in 2015, but Gerner won the race. He jumped at the chance when it came back to market in October.
But rather than have Gerner as just a lessee, a deal has been struck to keep him an equity partner with an active interest in the revived property's success.
"It's been a dream come true for me that we've been able to see the project through," says Gerner. "That was always the want and the hope, but these are big numbers we're talking about and just little old me."
The career publican decided to go with the partnership with Steller largely due to the company's depth of expertise, doing development, construction and finance. It also has considerable interests in the area, which could in turn benefit from the expansive hospitality project.
"It was really nice to come across someone who shared my vision, and has the capacity to make it happen. We share a like view of the growing property values and the finer opportunity that presented with The Conti."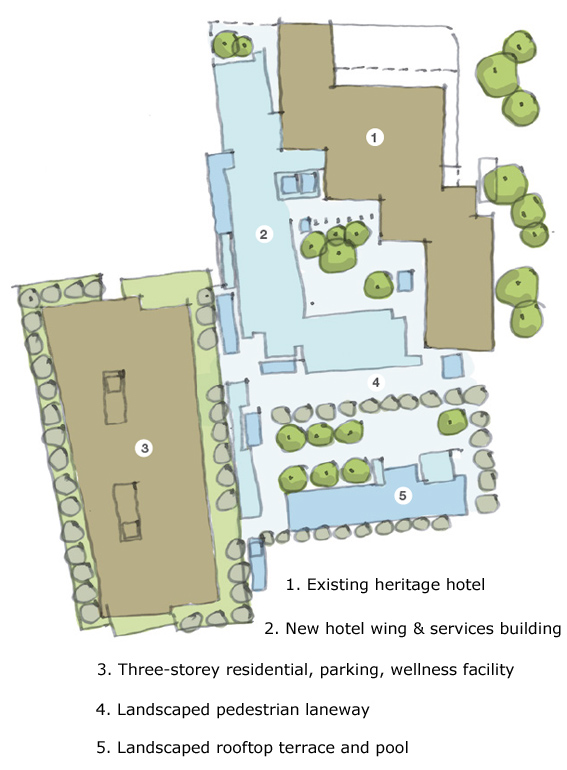 The Hotel has 3,500sqm of floorspace, facing north overlooking Port Philip Bay. Non-original additions will be removed or rectified, and a new hotel wing and services building will be constructed at the rear. The additional land will see construction of a three-storey luxury residential building, with parking and wellness facilities.
Once complete, the complex will offer a public bar, multiple foodservice offerings including a private dining room and champagne bar, two function rooms, 38 accommodation rooms, a café, gymnasium, spa, day spa, sauna and steam and a 25-metre lap pool.
"The building works will complement and enhance the existing heritage and provide a landmark tourist destination for the Mornington Peninsula," says Smedley.
"Sorrento has grown significantly over the past decade and continues to evolve with year-round population and tourism."
Work has now begun with Heritage Victoria and Council to make reality of the plans and permits, with some tweaks still likely. Gerner is hopeful construction will begin early 2018, with a view to reopening the Conti in time for the following summer.
Smedley estimates in the region of $35m for the construction, yielding property worth three to four times that amount.