Julian Gerner has found a good outcome with sale of his troubled Continental Hotel, with a buyer looking to resume restoration and development works immediately.
Career hotelier Gerner bought into the Continental – aka the Conti – back in 2015.
The Hotel is a striking icon of Sorrento, built in 1875, towering four-storeys of limestone in Italianate-style, with the highest level of heritage protection.
The project was always going to be bigger than Gerner could do alone, and after briefly putting it back to market in October 2017, he announced a partnership the following month with Nicholas Smedley's Melbourne-based construction conglomerate Stellar Group.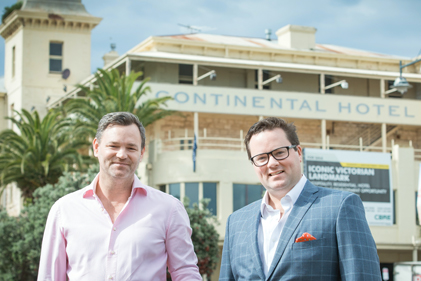 After an extensive consultation period involving heritage experts and authorities, and considerable input from impassioned locals, an $80-million redevelopment began in late 2018.
The plans would see the Conti offer a public bar and bistro on street level, restoration of the Art Deco interior and a fine-dining restaurant on the second level, and three function rooms on level three.
The lot behind the Hotel, which Gerner also owned, was already a significant hole in the ground, set to become 38 rooms of five-star accommodation.
Construction of the first stage was scheduled for completion September 2019, with the final value of the end project estimated at around $150 million.
But the first half of 2019 brought news Stellar was under great financial stress. In July the Conti reluctantly returned to market, while McGrathNicol and KordaMentha were appointed as receivers over a web of Stellar subsidiaries.
Earlier this week a Stellar-owned site in Highett was sold to a New Zealand interest for $28.5m.
The Sydney Morning Herald reports the Continental has now transacted for around $21 million.
Colliers International's Guy Wells, who brokered the deal with colleague Trent Hobart, would not comment on the sale price due to confidentiality, but says the purchaser will work to ensure the project stays in line with planning guidelines in place.
"We received strong interest from a wide variety of owner-operators, developers and investors, with the successful purchaser a local private developer who plans to recommence works on the existing redevelopment as soon as possible.
"The sale is a significant win for both the much-loved Continental Hotel and the wider community, as the purchaser has committed capital and the ability to bring this iconic asset back to life through an extensive redevelopment."
The deal was only finalised this morning (6 September), and Gerner – on vacation in Broome with the family – says after four and a half years he's ready to move on.
"It's been exhausting to say the least. I'm pleased that there's been a really positive outcome and the pressure valve's been released a bit.
"With more than three decades of experience in construction and development, the new owners are perfectly placed to pick up where construction left off."
On his plans post-Conti, he detailed immersing himself in Cable Beach with a cold beer before retiring to Diver's Tavern to watch Collingwood play Geelong.
"That's all I care about right now."