The king of Sydney's south has unveiled a massive overhaul of his oldest venue, with the Feros Group reopening the big Taren Point Hotel with new features and a fresh, "fun" look.
Between spectacular greenfield and brownfield builds such The Prince and Highfields, and taking this year's prize for Group Hotel Operator, Chris Feros has found time to overhaul his oldest asset, Taren Point's namesake pub, just south of the Captain Cook Bridge.
The pub has seen a complete renovation, guided by the stylings of H&E Architects, which has worked with Feros on numerous other projects. The brief was for a bright and very casual make-over of every space in the venue – plus more.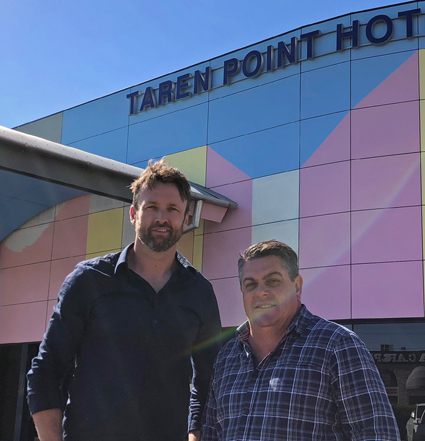 "Our vision for the pub is simply to have a heap of fun!" explains Feros.
"The outdoor areas are awesome, with festoon lights, pops of colour, bright graffiti walls, a food truck and an amazing new laneway space for kids and adults."
The project brings a brand new sports bar and more screens throughout, a lounge bar, bistro, multiple function spaces, and renovated beergarden. The new laneway offers two children's play areas, and tanks of Carlton Draught Brewery Fresh.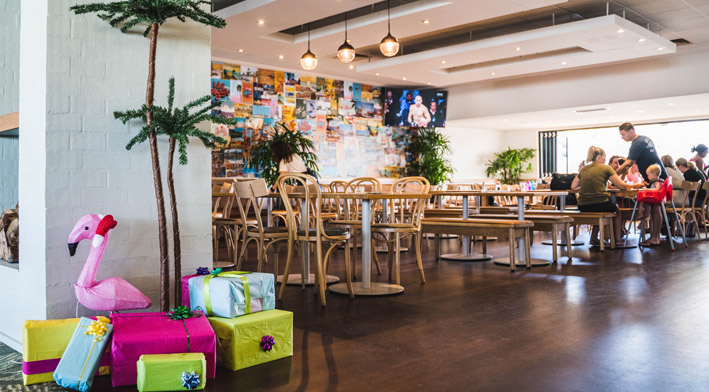 With the visual make-over comes the new menu, led by group executive chef Paul Pirreca, said to be broadly inspired by the dramatic evolution of the Sydney pub scene in the past two decades. This means huge schnitties, a range of burgers, fish and chips, steaks and pizzas, plus a broad selection of healthy options.
There is also the new food truck, in the outdoor courtyard, called Good Time Kebabs. It is a nod to homestyle barbequed meat, accompanied by healthy salads, flatbread and some "killer" dips and sauces. It offers both traditional kebabs and modern plates, with a choice of three meats, and classic trimmings, and was the focus of a degree of anticipation.  
"The Feros team visited some awesome venues in Melbourne and Brisbane and fell in love with the food truck concept," explains Feros. "Taren Point was the first opportunity to introduce one of these into the venues."
The revamped sports bar, TAB and terrace were completed and open for stage one, and last Friday the new bistro, beer garden and laneway opened to the sounds of Richard Clapton and the celebration of locals.