The elite of New South Wales hospitality gathered last night at Sydney's The Star to witness the annual crowning of the State's best of the best, filtering out winners for 40 categories in the AHA NSW Awards for Excellence.
Around 1200 guests joined political leaders including NSW Premier Gladys Berejiklian and Opposition Leader Michael Daley in the casino's Event Centre to hear the decisions of the exhaustive selection process. Hundreds of finalists had been whittled from more than 600 nominations, but in most awards one stand-out was inevitably selected.
Many of the best groups found themselves in line for multiple accolades, sometimes venues within the portfolio head-to-head or appearing in several categories.
All-new Barangaroo precinct multi-level creation Barangaroo House was a hot contender for Solotel, going on to win Best City Restaurant for Bea, Industry Rising Star for Wesley Adams and Bartender of the Year for Pauric Kennedy, before taking top honour – City Hotel of the Year.
The comparable regional winner was Woy Woy's Bayview Hotel, earning a Highly Commended in the Best Cocktail/Lounge category, and the coveted Country Hotel of the Year.
Millers Point stalwart hotelier Kazuko Nelson at the Hero of Waterloo was awarded Best Individual Hotel Operator, while Chris Feros' Feros Group, occupying a festive three whole tables and looking at more than a dozen nominations, took home Best Burger for Huxley's, and gold medal award Best Group Hotel Operator.
Speaking to PubTIC, a beaming Chris Feros said they were swift to send a big "congratulations" and thank you to the staff today.
"We're just so proud to have received this award. I have an amazing team, and this is really acknowledgement of the great work they do every day that got us here. Thank you all."
Similarly demonstrating a passion for industry and the role of the public house, Alistair Flower brought a contingent from the coast to contend for multiple categories, coming away with the enviable title of Heart of the Community for Settler's Inn for the second year running. Last year saw the team go on to win Outstanding Community Service & Achievement at the National Awards, held in the Gold Coast in September.
"This is the Award that I hold dear, as a publican that loves and completely engages with the area where we operate. I can't say how proud I am to go back-to-back in this arena, and continue to bring this approach to our growing stable."
Furthering the regional feel-good, popular long-time Tamworth hotelier Bevan Douglas saw a standing ovation as he and his wife took to the stage to accept his induction into the AHA NSW Hall of Fame.
Long-serving State and more recently National President Scott Leach opened the night, delivering his usual rousing endorsement and advocacy of hospitality, and before an animated crowd, AHA NSW CEO John Whelan congratulated the emergent winners in an industry he believes has never been better.
"Hotels in NSW are second to none; the industry really has gone from strength to strength in the last decade.
"The love and care publicans and staff put into iconic hotels like Barangaroo House and The Bayview and all our other winners is obvious – it's hotels like these that set the standard for pubs across Australia. Congratulations to all award winners."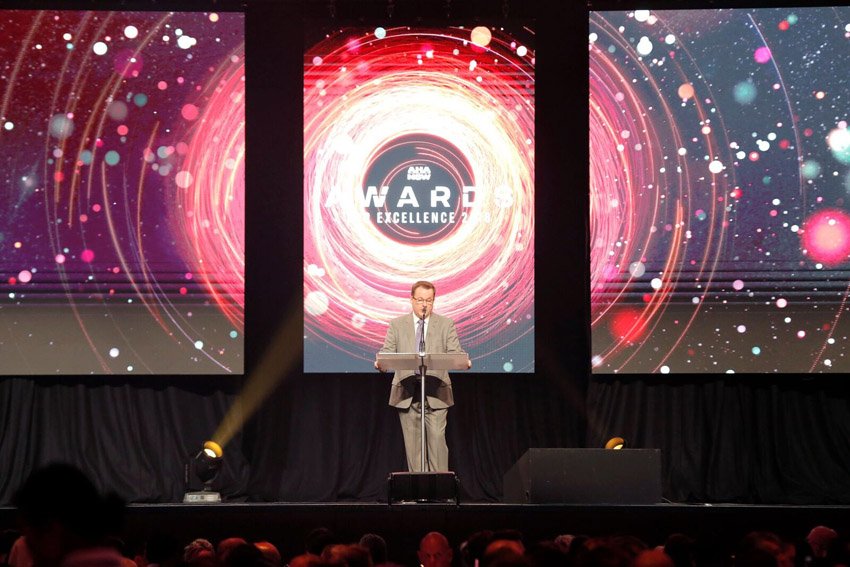 FULL LIST OF WINNERS
City Hotel of the Year – Barangaroo House, Barangaroo
Country Hotel of the Year – Bayview Hotel, Woy Woy
Best Individual Hotel Operator – Kazuko Nelson, Hero of Waterloo
Best Group Hotel Operator – Feros Group
Best Bush Pub – Armatree Hotel, Armatree
Best Traditional Hotel Bar (Country) – The George Tavern, Greenhills
Best Traditional Hotel Bar (City) – Rose of Australia, Erskineville
Best Cocktail/Lounge Bar – Donny's Bar, Manly
Best Draft Beer – Parkview Hotel, Alexandria
Best Wine List – The Dolphin Hotel, Surry Hills
Best Retail Liquor Outlet – Toronto Hotel, Toronto
Best Family Friendly – Moonee Beach Tavern, Moonee Beach
Best Outdoor Experience – Headlands Austinmer Beach, Austinmer
Best New/Totally Redeveloped (Country) – Thoroughbred Hotel, Scone
Best New/Totally Redeveloped (City) – Verandah, Sydney
Heart of the Community –  Settlers Inn, Port Macquarie
Best Restaurant (City) – Bea, Barangaroo House
Best Restaurant (Country) – Flooded Gums, Bonville Golf Resort
Best Steak – Verandah, Sydney
Best Burger – Huxley's, Caringbah
Best Steak Sandwich – Hero of Waterloo, Millers Point
Best Live Music – Cambridge Hotel, Newcastle
Best Sports Bar – Hunters Hill Hotel, Hunters Hill
Best Pub-style Accommodation (Traditional) – Nags Head, Adamstown
Best Pub-style Accommodation (Deluxe) – Headlands Austinmer Beach
Chef of the Year (Country) – Stefano Burlando, Lawson Park Hotel, Mudgee
Chef of the Year (City) – David Beus, Crossroads Hotel, Casula
Bartender of the Year – Pauric Kennedy, Barangaroo House
Industry Rising Star – Wesley Adams, Barangaroo House
AHA NSW Hall of Fame inductee for 2018 – Bevan Douglas