Melbourne trail-blazers Sand Hill Road have announced the reopening and reveal this Friday of St Kilda's epic seaside icon – the amazing, multi-faceted The Espy.
On 23 November the public will once again be able to enjoy and now explore much of the sprawling five-level pub, through the legendary curb-side beer garden to 12 bars, two restaurants and three stages, including parts of the huge building never before seen by the general public.
The opening comes after an exhaustive 18-month renovation and expansion, uncovering decades of forgotten memories.
SHR has planned, consulted and toiled over the restoration of the Esplanade Hotel's former grandeur and glory, looking to its rich history and inspired by its potential, determined to create a new cultural destination that will resonate in the hearts of those that recall its past and welcome all that are to follow.
"The Espy has always been our ultimate pub dream," says SHR co-founder Doug Maskiell.
"But it's also an awesome responsibility. Every day, we've uncovered layers and layers of The Espy's history that have absolutely blown us away. We know we'll never truly own The Espy – that title belongs to the many thousands of people who have walked its staircases before us, and the many more thousands still to come."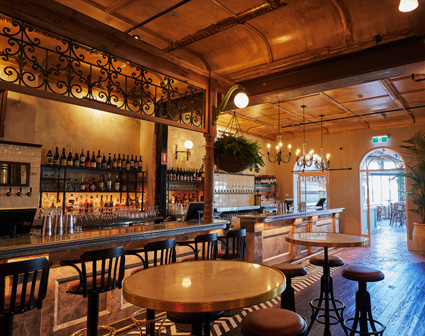 The ambitious design was a collaboration with Technē Architecture + Interior Design, working with SHR stylist Eleisha Gray to curate a vast selection of imported furniture and decorative objects. Stand-out elements include an operable glass roof atop The Espy's terrace entrance, a cellar door-inspired dining area, a mezzanine-level function room offering sweeping views over the bay, and a Studio Bar built around a fully-functional studio that patrons can hire.
The Espy's food offering comes out of a spectacular kitchen operation, transformed out of the hotel's old loading bay. The main menu is spearheaded by executive chef Ash Hicks, leading a 60-strong chef brigade, creating a selection that ensures plenty of nods to the seaside location, with a wide selection of dishes to suit any taste, occasion and budget.
In December the venue's classic Cantonese restaurant and cocktail bar, Mya Tiger, will come online.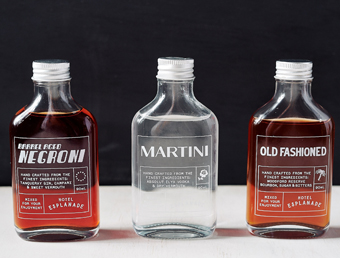 SHR group bars manager Kevin Peters and group sommelier Matt Skinner have developed a comprehensive drinks programme, with cocktails embodying a coastal sensibility, such as the Sun Sparkle Sour and 500 Days of Summer. They have also spent six months developing an impressive barrel-aged drinks programme, with spirits and cocktails made on site in custom 28L barrels.
The Espy "always has, and always will be, the home of live music" in St Kilda, and a cultural mecca for Melbourne. The pioneering pub boasts no less than three different stages – the Main Bar stage in the round, the talent-breeding Basement Stage, and ticketed gigs in the hallowed Gershwin Room.
Rightfully touting the opening as a celebration of both an historic beauty and St Kilda itself, SHR make no bones about their intentions for the legend.
"We want The Espy to stand as it has, for another 140 years, watching every sunset come and go," says Maskiell.
"It will revive the stories and legends of Alfred Felton, its stages will be alive again with the shredding guitars of new myths to be created. Our excitement for St Kilda lies in its own surge to retake the mantle of Melbourne's true beachside playground.
"We're excited that the St Kilda spark has been rekindled – eyes wide open and ready to play!"