The original legend of Ettamogah has come to market, boasting a most unusual structure and madcap reputation, just north of the NSW-Victorian border.
Ettamogah is an Aboriginal word meaning 'place of good drink'.
Budding cartoonist Ken Maynard used to cycle near a water hole known as Ettamogah, and coming to think it would make a great name for a pub, the word became central to his Ettamogah Mob cartoons that appeared for half a century in the Australasian Post.
The publication closed in the early 2000s, but in 1987 the whacky pub in the cartoon series was brought to life, a site at Albury chosen to kick-start what was hoped to be a themed chain of pubs across Australia.
In 1994 Leigh O'Brien acquired all intellectual property relating to the concept, including over 1000 cartoons and artwork, and the Ettamogah Group was founded.
The group did come to count other locations, in a property in Darling Harbour, and in another distinctively-designed outlet in Kellyville Ridge, now owned by ALH with the Ettamogah name used under licence.
Albury is an active regional city on the border of NSW and Victoria showing population of over 51,000.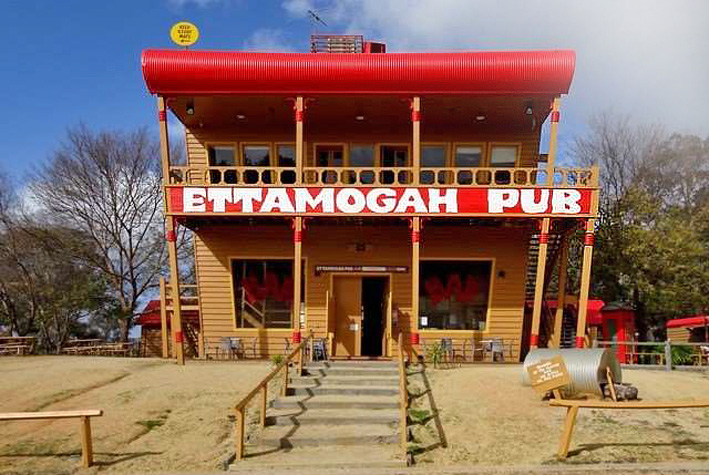 Albury Ettamogah is located off the Hume Highway, 16 kilometres north of the CBD, in Table Top, on a vast 4.81-ha site.
The Hotel is elevated from the carpark, offering a single bar operation inside and Ettamogah paraphernalia throughout, a large beer garden to the rear and a fenced children's play area. 
The bistro and commercial kitchen are located on the first floor, accessed via an internal wooden staircase, with a dumbwaiter for servicing downstairs.
It was envisioned to create a 'village' outpost on the site, toward which there are five retail shops, a reception centre and large dining barn reported to be close to completion.
The dining barn is planning seating for 100-pax, with its own bar. Work has been commenced, and a DA secured to add a relocatable kitchen.
While there is currently no gaming, the pub is approved for TAB, and its location being Band 1 an LIA is not required should the incoming purchaser wish to acquire entitlements.
There is also an out-building offering the use of shower and toilet amenities that is well-patronised by travellers and grey nomads.
O'Brien has been operating the pub under management, with increasing interests overseas.
He has engaged Manenti Quinlan in conjunction with John Hannigan Real Estate Services to market the asset and opportunity, which includes an extensive array of Ettamogah memorabilia and a 25-year licensing agreement for the name.
"The Ettamogah Pub offers an incoming purchaser an opportunity to acquire an Australian icon that is ripe for a hands-on operator to take control, and use the brand to take this opportunity to a new level," suggests Manenti Quinlan's Leonard Bongiovanni.
The original Ettamogah is for sale by Expressions of Interest.