Redfern diamond in the rough the Surrey 'Club' Hotel comes to market, representing a torrent of upside and rare opportunity on the city fringe.
Located on a prominent 368sqm corner of Cleveland and Elizabeth Streets, the Surrey is a three-storey rendered brick Victorian Italianate structure, with elaborate parapet and cantilevered first floor balcony wrapped in decorative cast iron balustrade.
It was built 1886, and is deemed by the State government a site of significance both architectural and historic, having been continuously licensed since the 1880s, with an unusual number of female licensees in the early 20th century.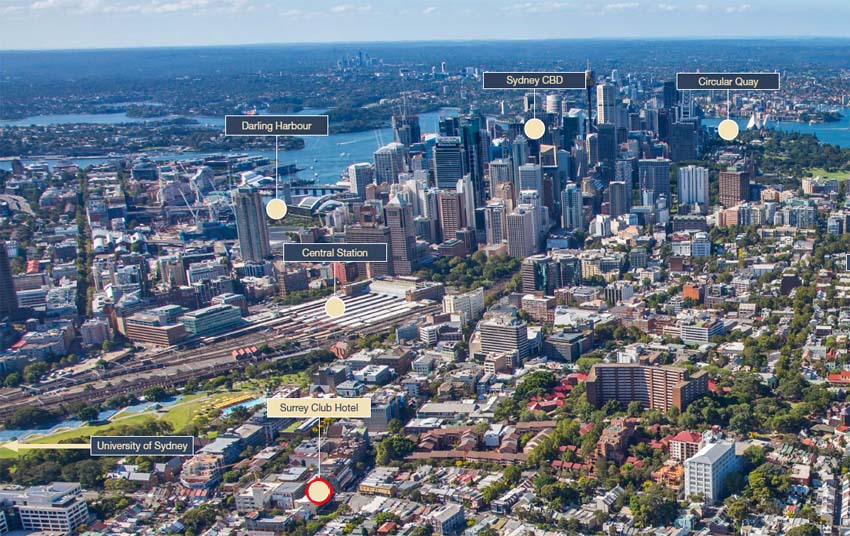 Inside, the single bar operation services the main bar, pool room, outdoor smokers' deck, and gaming lounge with 17 EGMs. A separate bottleshop faces Elizabeth Street, being operated only limited hours.
There is a functional kitchen, but it is not currently in use.
The first and second floors hold 12 pub-style accommodation rooms and bathroom facilities, typically housing long-term tenants. Additionally, there is a large four-bedroom managers' residence on the top floor, and secure parking below ground. 
Revenue has been consistent over recent years, FY18 showing average weekly takings just over $32k. This is generated mostly by the part-time bottleshop (43 per cent), and the gaming room (34 per cent), although the gaming does not provide discrete entry, nor TITO or CRT.
The Surrey's private owner has held the asset for close to 25 years, and bar a short stint with a tenant, owner-operated the rest of that time.
Looking to step down, he has engaged Knight Franks' Mike Wheatley and Kate MacDonald to market the property, offering upside in all departments and the new light rail soon to open on the doorstep. 
"We are excited to bring this true Sydney sleeper to market, with endless opportunity for a lucky buyer to reinvent a beautiful heritage pub," says MacDonald.
Agents note the vendor is potentially open to a tenant into the pub, but the market for Sydney freeholds is unlikely to find shortage of suitors.
"We look forward to high levels of interest, and a positive result for our private vendor."
The freehold going concern of the Surrey Club Hotel is on offer via Expressions of Interest, closing Wednesday 12 June.