Statistics show pubs continue to rapidly close all over the UK, but some forge on through economies of lack of scale, and innovation continues to thrive in the form of London's first nudist pub.
The great British pub owes much of its modern presence to age-old laws allowing private dwellings to be operated as a 'public house' serving alcoholic beverages and providing lodgings.
From this tradition came the Red Lion Inn, opened by Charles Wright, who operated it for decades with the help of his grandson Albert, and Albert's wife Mary, who moved there aged 22.
Both men have since passed, but 98-year-old Mary Wright still tends what is now known as the Luppitt Inn in Honiton, Devon, open Thursday through Saturday night from 7:30pm.
The tiny pub offers just one beer – the locally brewed Otter Bitter – but nonetheless made it into the ale drinker's bible, by the Campaign for Real Ale (CamRA).
Cider is also on offer, in the form of unchilled cans of Thatcher, as well as a limited selection of spirits, wine and mixers. All come on production of cash only. There is no till.
The establishment consists of a fireplace, dartboard and startled assembly of compact chairs and tables, joining a timeworn treasure of decorations including an autographed photo of Tina Turner. There is no 'entertainment' and the toilets are across the yard.
Yet, the result has earned the Luppitt a place in the National Inventory of Historic Pub Interiors.
Mary says years ago her little front room pub used to be busy much of the time, but it has "definitely gone quieter" these days, with perhaps a half-dozen people of an evening.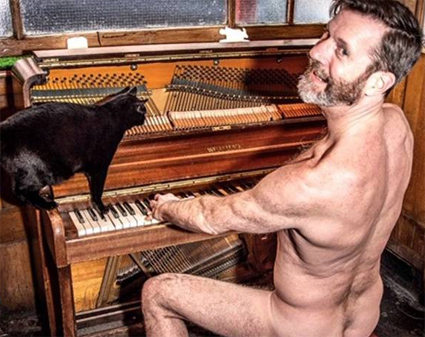 In the capital, the trend-setting Norman's Coach & Horses is pushing the limits a little further with scheduled hours for naked patrons.
The pub is already well known for its raucous piano singalongs, 'Private Eye' lunches and boutique veggie pies, and recently produced a calendar dubbed Beauty and the Beasts featuring regulars drinking and on the piano, in the buff.
Pitching itself as 'heart of the community', the Coach is taking new experiences to the next level, actively encouraging patrons in the raw by appointment. Staff may or may not be in a similar state of undress.
"We were the first vegetarian pub in London and now we're the first pub with a nudist licence," says owner Alastair Choat. "We had to turn lots of people down due to the limitations of a calendar," he explains.
Proceeds of the calendar go to homeless charity St Mungo's.