The Colosimos have opened the doors to their all-new pub for Macquarie Park, The Governor.
Lachlan Macquarie was Governor of NSW from 1810 to 1821, and was vital to the State's transition from a penal colony to a free settlement.
Macquarie Park is home to Macquarie University and scores of business headquarters, including some of the biggest names in technology. Part of greater Ryde, it became a suburb in its own right in 1999, fostering business parks to promote interaction between the University and industry.
In 2009 the precinct got its own train station, but by Australian standards needed a pub to really get on the map.
The Colosimo family's Momento Venues has now christened the area, last night unveiling its latest greenfield site on main drag Waterloo Rd, amid towering headquarters and thousands of office workers.
Street level finds a spacious main bar and bistro designed by Edith Clark, adorned with lush greenery, royal green tiles, plush stools and dark timbers. Six intimate booths inspired by train carriages make ideal locations for dates or meetings.
The bistro seats 160 and features an open fireplace and a portrait of Governor Macquarie by Momento staffer Olivia Anderson.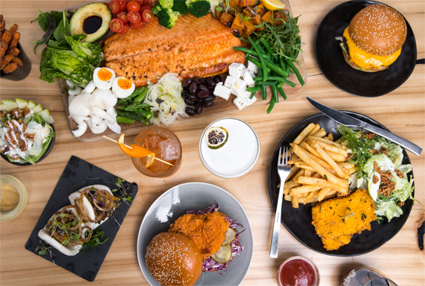 Menus are by head chef Luke Lashford, formerly of Sheraton on the Park and more recently the Australian Hotel & Brewery (AHB), serving up the likes of teriyaki chicken poké salad, wood-fired pizza, and slow-cooked Flinders Island lamb shoulder for two, or chef's favourite, overnight marinated Atlantic salmon with shimeji mushrooms pickled in gin.
Bar manager Andrew Ratcliff, formerly of Baxter Inn and Eau de Vie, has worked with Lashford for the drinks list, featuring both classic and seasonal creations to match the menu, and signature drink 'The Governor' – a twist on a whisky classic.
The final stage will soon come online, being rooftop space Ess, with its own bar, kitchen and 360-degree views of the area. Ess will offer its own Asian-inspired menu utilising a Japanese charcoal grill, producing wagyu skewers and zesty chicken wings.
Familiar with the challenges of large format venues, Lashford believes pubs are great for different offerings for different occasions.
"That's the key to creating a pub where you'll want to return time and time again," he says. "And it's exactly what The Governor is all about. It's somewhere you can settle in no matter what the hour and be well fed and watered no matter where you decide to perch".
Momento recently announced divestment of its Rouse Hill flagship, the AHB, in part due to its commitment to new upcoming projects, as well as those of its training and education facility, the Hospitality Institute of NSW, and the Momento Foundation, providing help to in-need members of Sydney's north-western community.
"On the wall there's a quote that says, 'there are no strangers here, only friends you haven't met yet,'" says Marcello Colosimo.
"At The Governor it's true. We are extremely proud of this community hub in Macquarie Park, and we can't wait to welcome you."