A pub near Newcastle has been welcoming a lot of newcomers since re-working its beer garden and investing in new reasons for patrons to keep coming back.
Owner Michael Leis reports the Argenton Hotel had seen a decline in key trade and made the decision to improve facilities in its outdoor areas including new furniture, a children's play area and a massive 160" (7m²) LED TV.
"We recognised regular drinkers, particularly the 4-7 'tradie' trade, had been dropping off in recent years," Leis told PubTIC. "And we began looking for a point of difference.
"Last year I watched the State of Origin at the Breakfast Creek Hotel on what I thought was a projector TV. I was so impressed I enquired with the hotel and was told it was an LED TV.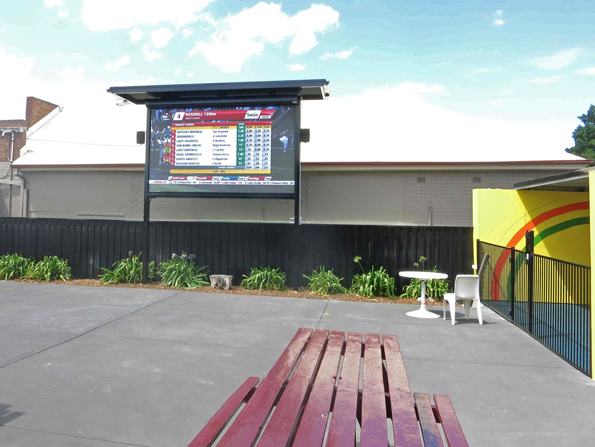 "I had to fight with my board of directors – my wife and daughter – but convinced them we had to try something. The Big Screen Projects TV was a rather substantial investment, but we hope it will be our point of difference for a while, and keep moving us forward.
"We also built a children's play area, with its own TV painted bright yellow, and a chalk board and other things. We're not usually much of a function venue, but we've had two in the past week, one of which was a baby shower with 30 women … the kid's area proved very handy.
"We've definitely seen a big improvement since the refurb, and the TV gets a lot of interest, particularly from people who like sport. This is normally a rugby league town, but the cricket went well too.
"These days, when punters can get a takeaway long-neck for the price of a schooner in a pub, you've got to give them a reason to come. I believe we set tone of our own hotels; if you want crap, you'll end up with crap."
Only 15 kilometres from the heart of Newcastle, Leis has felt the effects of the stigma of violence in pubs, and actively fights back to show people the merits of the family-oriented Argenton pub. In years of operation he says you could count the number of incidents "on one hand with fingers to spare".
"There's been a very much improved level of clientele and increase in business, I think due to our point of difference.
"We're seeing a lot of new faces that we hope will make the venue somewhere to call home."