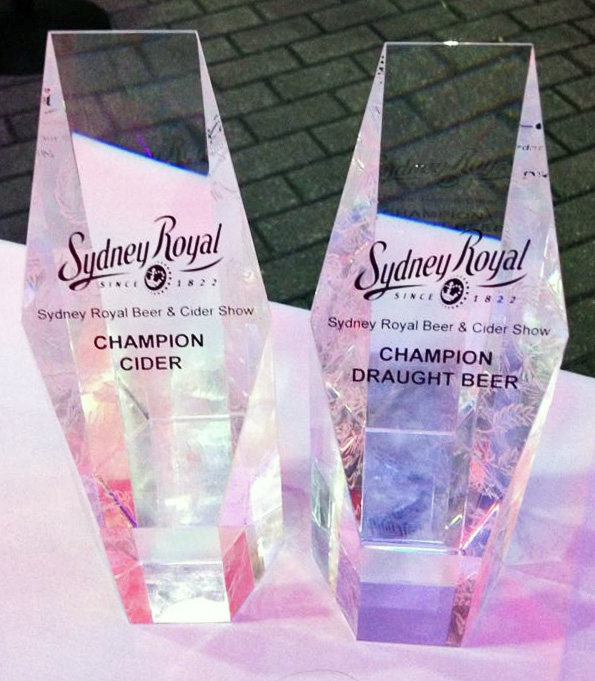 The Sydney Royal Beer & Cider Show crowned a new court of champions Friday night, with a boutique brewery taking two of the top awards.
This year sees the ninth instalment of the prestigious beverage awards, and a record number of entries drew a record 15 Gold medals awarded across the 34 major categories.
Also, three Champions were announced, in the categories of Draught Beer, Bottled Beer and Cider.
Of these, the trophies for Draught and Cider both went to the 'heart of the city', Sydney Brewery.
Describing its products as "epitomising the local style, personality and people" that make the city great, Sydney Brewery's Richard Feyn told PubTIC they relate to their surrounds.
"Sydney Brewery celebrates all things local.
"Maintaining a loyal and close relationship with our on-premise clients is the drive behind our business – we want to provide locals with the very best boutique beer and cider that their favourite pub, cocktail bar or restaurant has to offer."
Taking Gold medals for its Lovedale Lager and Pyrmont Rye IPA atop the two champion trophies, the brewery says its 'passion' presents in clean, crisp lagers, refreshing ales and pilsners, and approachable dark beers. Not to forget a celebrated cider.
"In all my years in the industry and judging, I have never seen a small producer deliver two Championship products in the draft and cider classes at one event," said Neal Cameron – Chair of Judges, and head brewer at the Australian Brewery.
"Sydney Brewery's Lovedale Lager and Sydney Cider are exceptional brews and I encourage all enthusiasts to get out and support them.
"Australia is seeing an enormous rise in the craft beer and cider industries and we're witnessing quality products successfully enter our market – it's an exciting time for all beer and cider enthusiasts around the country and we're only expecting further growth."
The Sydney Royal Beer & Cider Show judged Classes including: Golden Lager, Dark Lager, Pale and Golden Ale, Amber and Dark Ale, Stouts and Porter, Wheat Beer, Strong Beer, Reduced Alcohol Beer, Cider, Perry and Speciality Beer.
In total judges awarded 15 Gold, 55 Silver and 73 Bronze medals, and three Championship trophies.
Gold Medal Winners and Champions
Class 6: Pale / Golden Ales
Gold: Napoleone Brewers – American Pale Ale, Score 92
Class 8: Stouts and Porters
Gold: Murray's Craft Brewing – Wild Thing, Scor 91
Class 9: Wheat Beers (minimum wheat content 30%)
Gold: CUB Cascade Brewery – Matilda Bay Redback Original, Score 90.67
Class 14: Golden Lagers – Pilsner Style
Gold: Sydney Brewery – Lovedale Lager, Score 90.67
Class 19: Pale / Golden Ales
Gold: Beeblebrox Beverages – Windsor IPA, Score 92.33
Gold: Murray's Craft Brewing – Moon Boy, Score 90.67
Gold: Macarthur Grange Brewery – Stockade Pale Ale, Score 90.67
Class 21: Stouts and Porters
Gold: Modus Operandi Brewing – Silent Knight Porter, Score 90
Class 22: Wheat Beers
Gold: Feral Brewing Co – Watermelon Warhead, Score 90.33
Class 24: Strong beers – English, Scottish, American or other. Minimum ABV 6%
Gold: Modus Operandi – Former Tenant Red IPA, Score 90.67
Gold: Macarthur Grange Brewery – Stockade Craft Rebellion, Score 90
Class 25: Other / Speciality Beers. Minimum grain content 30%
Gold: Sydney Brewery – Pyrmont Rye IPA, Score 93.67
Gold: Flat Rock Brew Café Naremburn – Barrel Aged French Sour, Score 90.67
Class 26: Reduced alcohol beer (1.5 – 3.5% ABV)
Gold: Redoak – Bitter, Score 91
Class 29: Sweet cider
Gold: Sydney Brewery – Sydney Cider, Score 90
Champion Draught Beer
Winner: Sydney Brewery – Lovedale Lager
Champion Cider
Winner: Sydney Brewery – Sydney Cider, Score 90
Champion Bottled Beer
Winner: CUB Cascade Brewery – Matilda Bay Redback Original