Hot on the heels of HPI's listing of two Coles-leased blue-chip freeholds, another but soon-to-be-vacant Spirit Hotel has come to market, in booming Cairns.
The Barrier Reef Hotel occupies 530 m² on the corner of Abbott and Wharf Streets, and is one of the first buildings seen by passengers disembarking from the increasing number of luxury cruise ships docking at the Trinity Wharf Terminal.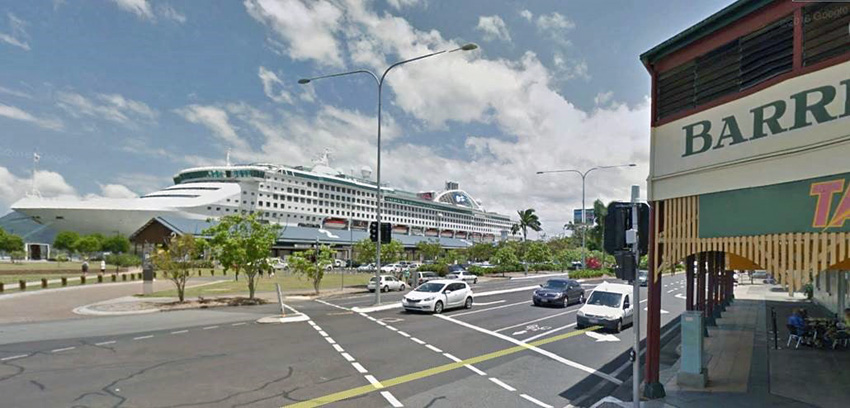 The two-storey concrete building was erected by PJ Doyle Ltd in 1926, to replace the original Empire Hotel structure built in 1898. Although its construction was largely due to the local licensing court condemning the original building in 1925, the new, larger structure reflected the company's confidence in the growth of Cairns, which in 1926 outstripped its export rivals Townsville and Rockhampton.
In 1938 the Empire Hotel was bought by Northern Australian Breweries Ltd, which held it until 1960, when the incoming owner changed the name to the Barrier Reef Hotel.
The Wesfamers-owned Coles' Liquorland, under Spirit Hotels, will soon see out the lease on the pub, and the owner, a local businessman that has owned pubs and sporting clubs for around 25 years, is looking to get out of the game.
Amid another reinvention of Cairns, Australia's tropical northern gateway to Asia and tourism mecca, the hotel is well suited to better utilisation of its 18 accommodation rooms, with potential to renovate downstairs into a modern restaurant-bar.
It is being marketed by Knight Frank's Matt Carless, who spoke of the increasingly common interest from south of the border.
"There has already been some interest from southern investors looking to develop sites in Cairns with value-add potential," reports Carless.
"Some investors looking at the site have expressed interest in a boutique hotel, catering to visitors looking for accommodation in an historic setting, other groups are looking at the development opportunity that comes with the location.
"Being on the waterfront ensures that the building capitalises on the increasing passenger flow from Trinity Wharf which itself is about to undergo another transformation."
Beyond its reversionary value and development potential, the Barrier Reef is one of the only pub TAB venues in Cairns, also boasting a modern gaming room with 35 EGMs, which are retained by the freeholder. The pub is located opposite Cairns' Reef Hotel Casino.
The Barrier Reef Hotel is being sold via Open Listing, with price expectation circa $4.5 million.