The new owner of Gympie's Royal Hotel has laid down the law in defence of vilified patrons, and everyone's right to enjoy themselves at the pub without harassment.
Stacey Lowe has worked at the Royal for the past eight years, and just two months ago became the proud new owner of the Gympie local.
Never one to idly watch the suffering of others, on Monday Lowe reluctantly posted on social media about a sorry incident at her pub on the weekend, where a young man harassed and tried to grope a lesbian couple enjoying a drink with a friend.
"If you're someone who bullies a person for the colour of their skin, sexual orientation, a disability or any other factor that makes them different to you…We do not wish to add alcohol to your intolerance and you won't be welcome. It's as simple as that."
The post has unleashed a storm of support, already showing over 11,000 Likes, 3,176 shares, 883 comments and a flurry of media attention.
"I felt I was only addressing a small minority of people," Lowe told PubTIC. "For the most part, everybody mixes well.
"There is quite a large gay and lesbian community in the town and a couple of gay groups that drink here and also work in hospitality. We want the hotel to be a very warm place for everybody."
Lowe reports it was the second such incident in six months, and the patron in question was banned for six weeks. But he has since apologised profusely, and the mother of four believes this behaviour is the exception to the rule in her south-east Queensland town, and hopes it will be the last time in her pub.
After working for years as manager for the investor owner based in Sydney, Lowe recently got opportunity to buy the Royal herself, and immediately injected a bit of cash and repainted, having finally consolidated what she had long thought of as her own.
The Hotel already has a name for defending the down-trodden, seen in donation tins on the bar and fundraisers that continually raise money for Gympie's Community Action Group (CAG). Every time $100 is raise, CAG gives the Hotel another swag to give to a needy homeless person, who are often drawn to shelter near the pub when the rest of the town is closed for the night, particularly in the colder months.
This initiative began from a previous Facebook rant, in which Lowe cried out that the town needed a homeless shelter, after which the staff did a winter sleepout to raise money for the idea, and CAG began offering sleeping swags for those with nowhere to go.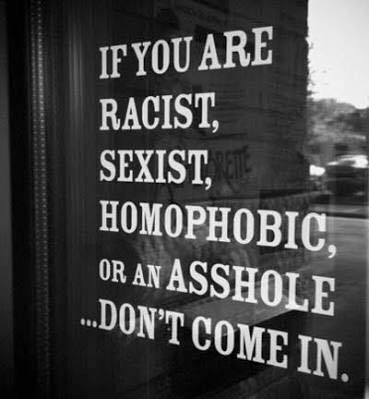 "People bring stuff in droves when we do a charity drive," she said. "Food, clothes, blankets – tonnes of stuff."
And vestige of yet another rant on social media, the pub has become associated with the 'no assholes' policy (pictured).
"We don't actually have that on the door," Lowe clarified. "It was something I saw years ago and thought made a good point, but it's not me to be that … confrontational."