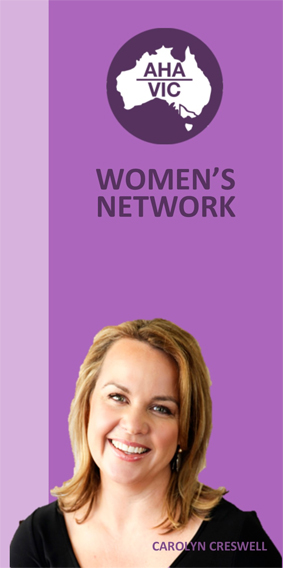 The AHA(Vic) and Tabcorp are launching their new initiative, a Women's Network, to coincide with International Women's Day, and further recent successes in equal opportunity.
On the morning of Wednesday, 8 March, Melbourne's Langham will host a breakfast for attendees, highlighted by key note speaker Carolyn Creswell – founder of the international Carmen's food brand.
International Women's Day celebrates the social, economic, cultural and political achievements of women, and the AHA(Vic) says its Women's Network will create "occasions for like-minded business women to network, share ideas, challenges and opportunities".
Tabcorp was recently recognised, again, as one of Australia's leading promoters of workplace diversity, and named an Employer of Choice for Gender Equality.
For the second year, Tabcorp is supporting the Women's Cancer Foundation (WCF) through the successes of Team Teal – female harness drivers across Australia that will be wearing teal pants for six weeks in February and March to raise funds and awareness for the Foundation.
Working with racing partners Harness Racing Victoria, NSW and ACT, Tabcorp will donate $200 every time a female driver wins a race – matched by the respective racing body, for a $400 donation to the WCF. In 2016, 184 female winners in Victoria, NSW and the ACT during the campaign saw Tabcorp contribute almost $37,000.
The Women's Network event in March will enjoy the inspirational speaking of Carolyn Creswell, who has grown Carmen's from a local business to be the top-selling gourmet muesli brand in Australia and now in 32 countries. The ticketed event is sure to attract business-minded women in hospitality and service industries, such as Tabcorp's Executive General Manager People, Culture and Communication, Merryl Dooley.
"We are pleased to support the AHA (Vic) Women's Network breakfast and I'm looking forward to the event," Dooley told PubTIC.
"For the second year running Tabcorp was the only gambling company to receive citation from the Workplace Gender Equality Agency as an Employer of Choice for Gender Equality last year. We're really proud of our achievements in this space and it is fantastic to see our partners at the AHA as committed to gender diversity as we are."
Women's Network Breakfast
Wednesday, 8 March
7:30am – 9:00am
The Langham, Melbourne, 1 Southgate Ave, Southbank
The Clarendon Ballroom (Podium level)
Tickets $65 per person – on sale until Tuesday, 28 February