St Kilda's famous Hotel Barkly has been sold – for the second time in six months – to new publicans, the owners of the backpacker business upstairs.
The popular Hotel Barkly came to market mid-2016, with long-standing operator Simon Lennox offering up the trendy pub with multiple bars, as well as 11 boutique hotel rooms and 24 upmarket backpacker dormitories.
The resulting sale saw husband and wife team Belinda and Campbell Usher take on the pub business, with its public and basement bars, TAB and successful function space, and brothers Adrian and Nathan Somerville take on the accommodation, expanding their Summerhouse Backpackers business.
But changing circumstance has seen the Ushers relinquish the pub business, which was quickly snapped up by the acquisitive and ambitious Somervilles.
Speaking with PubTIC, Adrian Somerville said although they have not owned a bar before, it was "a bit of a no-brainer" for their growing chain, now counting seven hostels on the east coast.
"The hostel was lacking common space for guests to just 'hang out' and we identified early we'd like the pub if it came on the market.
"We work closely with bars, even sub-lease some within our hostels, and promote them heavily with guests.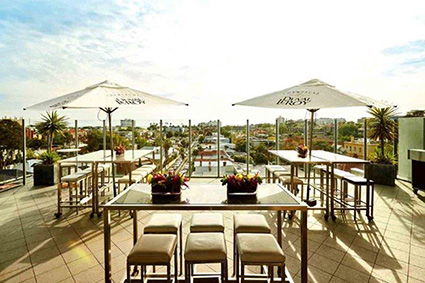 "We see this as an opportunity not just to run a successful bar, but improve our backpacker business as well, and ultimately strengthen our total brand."
The Barkly is located just minutes from the CBD, in the Melbourne bayside suburb of St Kilda. It boasts breathtaking views across Port Phillip Bay, and fame for its 'Sunday Sessions' and celebrity cameos.
It was sold through CBRE Hotels' Will Connolly, who says the Somervilles' plans mean the venue and district will benefit in the end.
"We firmly believed that the most important aspect of the sale was to ensure that Hotel Barkly remained available to the greater community as a 'pub', as it has been for generations, and not just a hostel.
"It's clear to see that Adrian and Nathan's vision will not only be to create one of the best pub/hostel offerings in Australia, but to stay true to the pub's core values in serving its loyal locals."