The reluctant hero publican of holiday town Marysville has put his prized pub to market, hoping to spend more time enjoying the town he helped rebuild.
February 2009 saw the deadly Black Saturday* fires sweep through swathes of Victoria, devastating more than a dozen regions, including Kinglake-Marysville.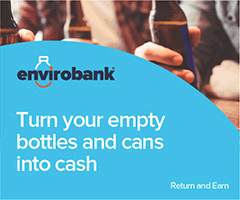 Ashraf and Christine Doos have called Marysville home for 15 years. Both trained chefs, they had opened and operated a patisserie in the town, and held the title to both this and the land on which was built the town's only pub – the Marysville Hotel.
Both blocks were barren wastelands in the aftermath, and remained so for some time. The couple left the area and began a restaurant in Melbourne, just 90 minutes' drive away, but yearned for the tranquillity of their town.
They were the first to return and rebuild, reopening their patisserie in 2011 to immediate success.
Years later the re-emerging town still did not have a watering hole, and the Doos undertook to construct one on their block, the site of the former pub. The kids having grown and left home, they felt they could undertake such a big new endeavour.
And so it was the Duck Inn hatched late 2016, echoing the town's famous colonies of ducklings that spill forth each year and overrun the area in down and waddle. Marysville is an idyllic town the Egyptian-born Ashraf says reminds him of Europe. "I feel like I'm in heaven."
But the original plan to lease the hotel from day one fell through last-minute, and its increasing success at the hands of the Doos has come at a price, albeit a good problem to have.
"Marysville is growing so quickly," he explains. "The only reason I'm selling the pub – I can't keep up."
Despite closing the patisserie in favour of a b&b-style clutch of cottages, Ashraf says he can only manage to run the pub six days, and is still clearing around $20k per week.
The Doos are looking for "someone else with energy" to take ownership in the burgeoning Duck. They are non-specific on lease terms, which could be five- to fifty-years, and flexible on rent, likely to be around $50k annually.
The asking price of just $350k represents a generous opportunity for the right party, which Ashraf says can't be just anyone. He has already turned down a lucrative offer put to him by a passive investor looking to a management model, and says it's not about the money.
"I would be so embarrassed if after a few months they leave … I need some commitment because I live in the town. I'm proud of my town and the locals are proud of it as well, so I cannot hand it over to someone that would let it down a bit."
The Duck is functioning with a full crew, including two chefs on 457-visas, meticulously trained by Ashraf and Christine, and indentured for three years. The couple are eager to help a new owner step-by-step into the local fold.
"I live across the road. If they need a hand I'll give them a hand, for nothing. Use my experience. I've been here for years with the locals, I could help the person settle and develop the business.
"I'm not hungry for money, I've got no mortgage. I've learned life's too short, you've got to enjoy – it's not all about money.
"I come in the morning, I go home at midnight … I need to enjoy my life a bit, otherwise I'll get divorced!"
*Black Saturday was Australia's worst ever bushfire in terms of loss of life. 173 people perished and 414 were injured as intense weather fuelled fires that destroyed over 450,000 hectares (1.1 million acres)