Just weeks after Sydney's nightlife was dealt another blow with the sudden closure of Kings Cross icon World Bar, the space will jump again this week to the tune of Cali Club.
World Bar had been dominating the sounds of KX and particularly Bayswater Road for almost two decades when it announced its imminent closure at the end of November, citing the long-term effects of Sydney's lockout laws, which prevent patrons entering a venue after 1:30am – dramatically affecting many late-trading venues.
Raging against the dying of the light, new hospitality duo Dane Gorrel and Matt Weir swiftly took up the venue – continuing their work in the precinct, having reopened Club 77 in September, just a kilometre away on William Street.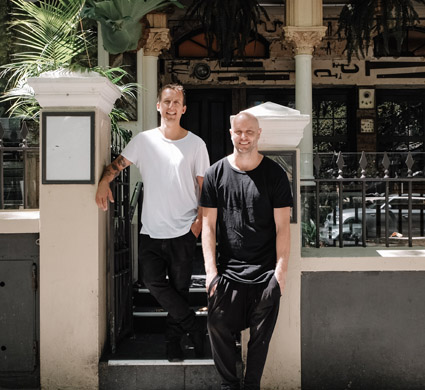 The pair met back in 2004, finding themselves at the same parties in Kings Cross, and bring their extensive collective backgrounds in bars and nightclubs to the new offering.
Weir had one of his first resident DJ positions at World Bar, going on to start famous Sunday session S.A.S.H, and touring agency SolidCircles.
Gorrel was GM of the Abercrombie Hotel – one of S.A.S.H.'s original homes – as well as cult underground Bali nightclub Koh.
Weir believes late-night venues are breeding grounds for artists, allowing them to connect with people through their music.
"Going out and listening to music is part of growing up," he says. "It helps shape identities and build communities. We want to play a positive role in that part of people's lives."
A triumphant return sees Cali Club throw the doors back open on Wednesday (12 December), and next week the club's long-standing Wednesday night tradition The Wall will return. Thursday thought to Saturday nights will offer varying selections, from house and tech to hip-hop and afro beat.
The new operators plan to spend the next few months getting a feel for the venue and precinct of today, before executing a refresh they hope will give it the new edge it needs.
"We need to preserve our nightclub institutions," stresses Gorrel.
"They have a tremendous impact on Sydney's culture, and once they go, it's incredibly hard for them to return. We really want to help keep the candle burning for our city's night life and continue the venue's legacy.
"World Bar means a tremendous deal to a lot of people, so we like to think of Cali Club as just the next chapter in the venue's colourful history. Cali Club is fun, young and all about having a great time, and we can't wait to welcome everyone back this week."