The striking Highway Hotel on the main road through historic Gin Gin has hit the market, offering an all-round business in the heart of sugar country.
The handsome two-storey pub faces north-east over Gin Gin's Mulgrave Road, with its manicured park and placards celebrating the history of the town. The Highway offers a long, shaded front balcony off the street, and two shaded beer gardens. 
Inside there are bars, bistro dining, a sports bar with UBET, gaming room with five EGMs, Thirsty Camel bottleshop, and five accommodation rooms with shared amenities, plus a 1-bedroom manager's residence.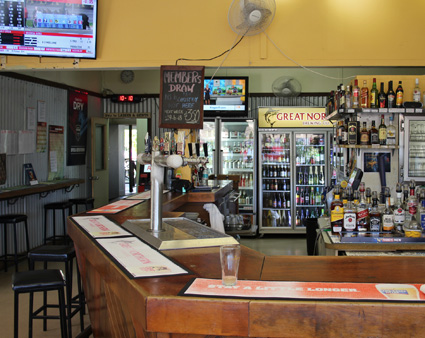 Gin Gin is a rural township of around 5,100 souls, on the Bruce Highway approximately 50 kilometres west of Bundaberg, 370 kilometres north-west of Brisbane. The town arose following sheep droving into the area by Gregory Blaxland Jr – son of famous explorer, Gregory Blaxland.
Its name is believed to have come from the Western Australian town of Gingin, meaning "place of many streams" and the central Queensland region is similarly heavily dependent on agricultural industries, particularly sugar.
Former tenants Danielle and Craig Hair have moved on from the pub's operations, and looking to retire, freehold owners Terry Morrow and Bob Turnbull have decided on an amicable partnership split, engaging Power Jeffrey's Peter Power and Andy Nason to market the asset.
The agents see the pub potentially suiting first-timers, noting a "genuine vendor" and region well-positioned for tourism.
"Gin Gin is a great town and full of backpackers … with a new 300-room backer accommodation village just opened, there is huge upside."
The freehold going concern of the Highway Hotel is for sale for $950k + SAV.