A Sydney hotelier has crossed the bridge to buy Balmain Pub Group's famous Greenwood Hotel for just over $10 million, with plans to carry on the tradition of the 1878 former church.
BPG announced the sale campaign of its picturesque sandstone pub in late April, principal Nick Wills revealing "the timing is right to re-evaluate" following the recent passing of one of the Group's major partners.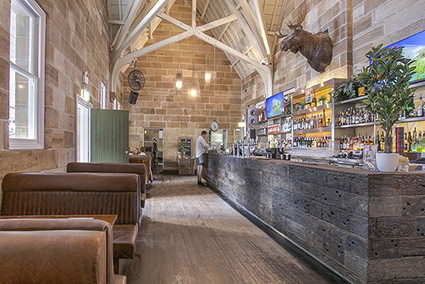 Originally built as a church, the building became a pub in 1992, with Wills pulling the first ever beer, under the employment of Tony and Morris Green. He returned 22 years later with BPG to buy the leasehold operation.
Still on a high from his recent purchase of Dean Haritos' Verandah Hotel, Simon Tilley has expanded his CBD-based portfolio to the north shore with the Greenwood.
"I'm very excited to be involved with such an iconic North Sydney pub institution," Tilley told PubTIC. "I have two fantastic new locations, which is key for me."
Eager to make the most of the high-yielding leaseholds, Tilley is very upbeat about the pub game.
"The industry is full steam ahead," he said. "We look forward to getting in there and continuing to deliver good service, good food and good times."
As the red-hot Sydney market continues to snap up freeholds at record prices, the leasehold market continues to offer far higher returns for the right operators, willing to back their operational abilities.
Although no immediate plans for further acquisitions, Tilley refused to rule anything out if the "right deal, right price" comes along.
The Greenwood marks the third recent sale for BPG, the strategic reshuffle thus far netting nearly $25 million with divestment of its Town Hall Hotel in Balmain, and Erskineville's Swanson Hotel.
CBRE Hotels has managed all three sales, and after considerable activity in the leasehold market in the past year national director Daniel Dragicevich says the returns can be compelling for established hoteliers.
"The keenly contested campaign for the Greenwood Hotel is in line with a recent market shift towards high cash flow leaseholds, which are sold on more attractive multiples than the traditional freehold going concern model.
"Experienced operators understand that if the rental ratios are right these types of assets are irreplaceable.
"The Greenwood has had only two owners over its 25-year lifespan for this very reason, and when coupled with the continued redevelopment of the North Sydney CBD the incoming purchaser is well positioned to continue the Greenwood's legacy and elevate the business even further."
CBRE successfully brokered eight leasehold interests of the Keystone Group, in receivership, sold mainly to Bruce Solomon's Solotel Group, and Bruce Dixon's Dixon Hospitality Group, which is currently attracting interest from private equity due to its lucrative lease operations.