As North Sydney pushes ahead with massive expansion, the Balmain Pub Group has listed its hallowed heart of the precinct, the striking Greenwood Hotel.
Built as a church in 1878, the historic sandstone structure has been a hotel for just 25 years, with just two owners, the latest being Nick Wills' Balmain Pub Group (BPG).
Wills bought the leasehold operation from Tony and Morris Green, for whom he worked while at university – pulling the first ever beer at the new establishment, before returning 22 years later to buy it.
Now, as North Sydney is poised to see over $2.5bn in development over the next few years, with population forecast to grow 25 per cent in the next two decades, BPG is considering its next moves.
"We have good pubs, but one of the major partners has just passed away and the timing is right to re-evaluate," Wills told PubTIC.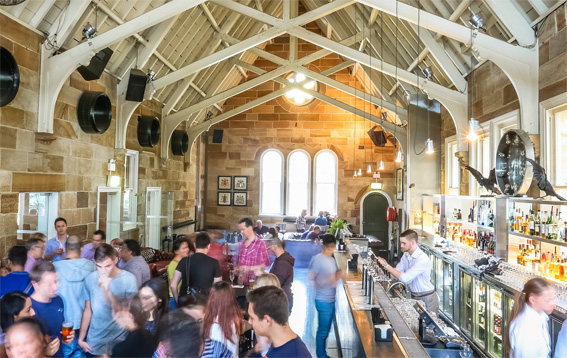 The Greenwood comprises multiple bars, function rooms, outdoor areas and a dedicated gaming and wagering area. It occupies 1,761 m² in the landmark former church – directly above North Sydney train station and adjoining Greenwood Plaza, which sees 18 million visitations annually.
The Hotel is being marketed by CBRE Hotels' national director Daniel Dragicevich and NSW director Sam Handy.
"The business currently achieves revenues of $9 million per annum, and the recently reconfigured model is well positioned to take advantage of the of the short- to medium-term exponential growth within the North Sydney CBD," reports Dragicevich. "It will undoubtedly appeal to a wide spectrum of hospitality operators across the country."
North Sydney is NSW's second-largest CBD, and while traditionally dominated by retail and commercial high-rises, the past 18 months have seen approvals for five new commercial and 14 residential towers for the precinct.
There is also a new underground train stop – Victoria Cross Station – currently being constructed just two blocks from the Greenwood.
Channel Nine is also said to be relocating into North Sydney, bringing an industry of associated media and celebrities.
The leasehold business is likely to see a sale price circa $10 million – following on from the strong interest in high cashflow hotel businesses, exemplified by Haritos' lightning-fast big-ticket sale of the Verandah.
The Expressions of Interest campaign on the Greenwood Hotel closes Wednesday, 24 May.