Following years of legal tussles, the Sunshine Coast's legendary 'Ettamogah' pub has been transformed with a new image and essential new look, leading to its pending wholesale mandated relaunch.
The famous Ettamogah pubs were inspired by the madcap antics in Kenneth Maynard's popular cartoon series The Ettamogah Pub Mob, from the former Australian Post magazine, incorporating very distinctive angled exterior walls and a tin roof sagging in the middle, seemingly due to the vintage truck parked on it.
The first pub was in Table Top, outside of Albury, opening in 1987, followed two years later by the Sunshine Coast location within Aussie World, Cunderin in Western Australia in 2001, and Rouse Hill in 2003.
Southern Equity, owned by Leigh O'Brien, purchased the Ettamogah brand and concept in 1994.
After years of trading under the Ettamogah name, a dispute between Southern Equity and Timevale, owners of Aussie World, ended in a court battle and the two entities parting ways. In 2014 Timevale agreed to remove the Ettamogah name for design and trading purposes.
A year later O'Brien was not satisfied this had been done, with the only clear changes being the removal of the name Ettamogah and the truck from the roof. He pursued further court action against Timevale, and vowed to soon reopen the original Table Top venue, which had closed in 2011.
With legal disputes now reputedly settled, the Sunshine Coast pub has finally shed its shrouded scaffolding, unveiling a distinctly different look inspired by the tropics, with its own waterfall, twice the capacity, and strictly vertical walls.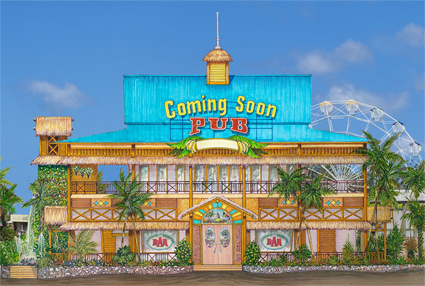 Aussie World kept it trading throughout the structurally-challenging multimillion-dollar make-over, which includes over 500sqm of new decking at the front and sides, for drinking and dining.
More elements will be revealed in coming months – including the new name, which has yet to be announced.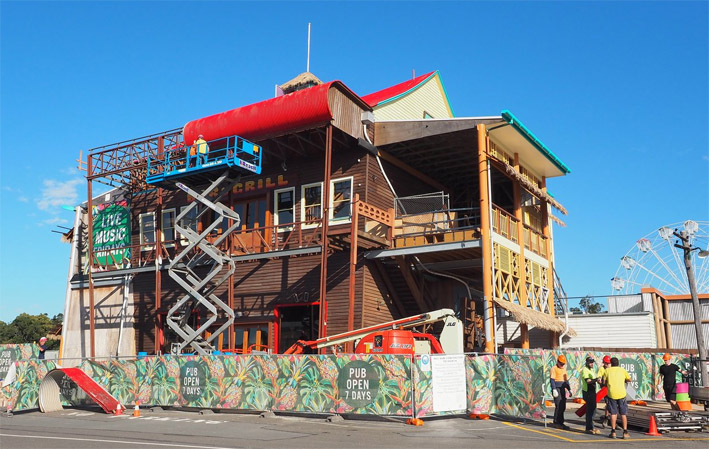 A spokesperson told PubTIC they continue to simply call it The Pub at Aussie World in the lead-up to the grand reopening, projected for early 2019, but could not confirm when the new name or reopening date would be announced.