One of the most identifiable pubs in Australia is under trading threat in the Federal Courts, with Southern Equity wanting it shut down until it bears no resemblance to the Ettamogah brand.
In 1994 Leigh O'Brien's Southern Equity purchased the Ettamogah brand and concept, made famous by the late Kenneth Maynard's popular cartoon series, The Ettamogah Pub Mob, printed in the now defunct Australian Post magazine.
The brand was first immortalised in venues in 1987, in Table Top, outside of Albury, by local businessman Linsday Cooper. The building featured the distinctive lopsided architecture of angled walls and sagging tin roof. This was emulated in 1989 in Queensland, in Cunderin in Western Australia in 2001, and most recently in outer Sydney's Rouse Hill in 2003, currently operated by ALH.
In 2012 a court decision found that O'Brien's Southern Cross Equity, despite being owed other royalties, was not entitled to more money after an extension and food barn were built at the rear of the Brisbane pub, operated within Aussie World.
In November 2014, Timevale, operators of Aussie World, parted ways with Southern Equity, agreeing to remove the Ettamogah name for design and trading purposes.
The Sunshine Coast Daily reported Aussie World general manager David Thompson hinted that the pub's distinctive appearance would be altered. Thompson reportedly said the naming licence had been handed in to pursue an opportunity "to build a bigger and better brand".
However, O'Brien maintains that removal of the concept has not happened, and that photos, slogans, decorations and the colour scheme continue to be used – illegally.
"Timevale continues to carry on business at the Palmview facility operating the Ettamogah Pub, having done no more than remove the name 'Ettamogah' from the front and side of the building and on or about January 2015 remove the utility [truck] from the roof of the building," Southern Equity reported in court documents.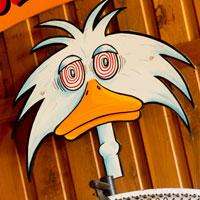 Now named "The Pub", Aussie World's venue has certainly not deviated far from the whacky stylings of Maynard's cartoons, touting its Friday night "Goose Club" amongst other theming ties.
O'Brien is now suing Timevale, and asking the Federal Courts to fast-track an injunction to force The Pub to cease trading until it bears no resemblance to its origins.
In 2011, O'Brien's companies Ettamogah Entertainment and L & D Holdings P/L were put into liquidation, with reports of creditor debt over $9 million. There were unsuccessful attempts by RSM Bird Cameron to sell the original Albury venue, which closed in May of that year.
Late 2013, the business was transferred back to O'Brien for an undisclosed sum, and in March 2014 he told The Border Mail of plans to open by Easter and expand the site with a retail village, supermarket, accommodation, waterpark and shops.
"My word, I've never been more confident," said O'Brien.
The Ettamogah Pub, Table Top – 15 kilometres outside of Albury – is not currently trading.