Sydney pub icon The Oaks has unveiled the first stage in the biggest upgrade in its 133-year history, welcoming the no excuses good-time Taffy's sports bar.
A landmark of Military Road through Neutral Bay, The Oaks is famously one of the first pubs newcomers to Sydney seek out, for decades allowing eager visitors to 'cook their own' steak on the grill in its prized beer garden, beneath the tranquillity of its famous flora.
Since 1975 it has been the jewel in the crown of the Thomas family, patriarch David and industry stalwart Andrew still onsite steering the ship seven days a week.
No stranger to reinvention, the pub has seen plenty of reincarnations over the years, expanding its offerings and fine-tuning its markets.
It was determined The Oaks had strayed from what have previously been core markets, no longer a preferred location for ladies' events, and the front bar becoming more attuned to a younger crowd, on weekend evenings.
Furthermore, opportunities were potentially being missed in take-away food and liquor.
Extensive research was done, involving the hotel's considerable list of patron contacts and two companies conducting focus groups.
The result is a three-stage overhaul to several elements of The Oaks, bringing new attractions and enticements in food and beverage.
"One of the best comments that came out that I think nailed it on the head, was 'We love The Oaks, poor old darling just needs a little botox'," recalls Andrew Thomas.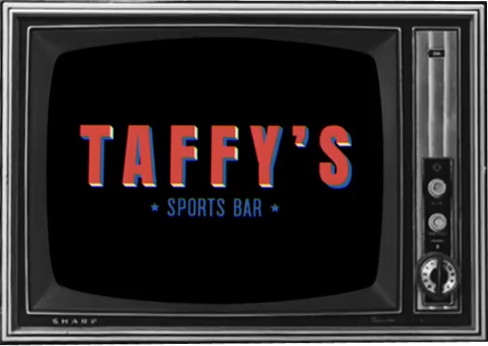 This therapy has taken the form of Taffy's sports bar, replacing the former 1936 Bar, bursting with pop culture and sports theming, including a Hulk Hogan beer tap topper and life-size Richie Benaud mannequin, replete with cream suit and Channel 9 microphone.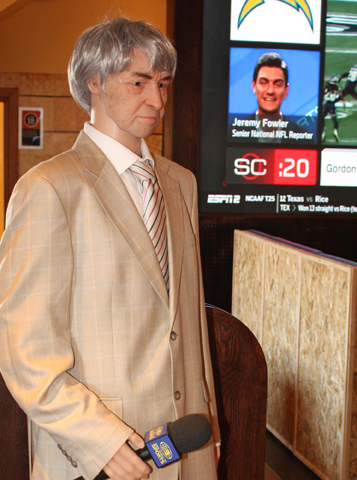 There are plenty of booths and high tables, giving groups vantage to watch one of many screens around the room, including a monitor installed by TAB that displays nine, 12 or 16 screens in a panel, and an impressive six by two-metre high-def LED screen dominating one end of the room that can show one huge picture or many smaller images simultaneously.
Thomas wanted this area to embody the noise and atmosphere of sports, but not from the TVs. To this end there are two custom basketball hoops where patrons can play each other, no charge, as well as an air-hockey table and striking eight player foosball table.
Taffy's – taken from the nickname both David and Andrew carried from high school – opened Friday, in anticipation of the upcoming Rugby World Cup, debuting with the first NRL final match for 2019.
Stage two, set to open in October, will be Alala's, in recognition of David's mother. This is to be an elegant conservatory, in the place of the current Garden Bar. Angled toward female patrons, it will boast north-facing light-filled spaces, natural tone flooring and bay windows, spilling onto a Parisian-style patio shaded by the oak tree.
Each area is set to have its own independent menu and beverage selection; Taffy's providing rebellious takes on sports snack favourites such as duck nachos and spring rolls with gooey cheese, while Alala's will be a more 'picnic' style and Instagram-evoking menu, with home-made tartines stuffed with prosciutto, goats' cheese and pear.
Taffy's drink menu comprises twenty taps, including some mainstream, with crafty brews to rotate monthly, alongside bold cocktails befitting its vibe. Alala's will conversely produce fresh, seasonal cocktails mixed with ripe produce and topped with garnishes.
Connecting the two new offerings will be the new Oaks Bottleshop and Takeaway, offering a curated craft beer and wine list, as well as a cast iron oven and rotisserie, serving fresh baked bread and hot roast rolls with gravy for convenience and street-appeal.
Due to be completed in October, it is inspired by a 1940s milk bar and has a communal tasting table that invites guests to 'try before you buy'.  
"We weren't getting as many big group of girls as we used to, and needed to make part of The Oaks more female-friendly, and let them really own a space," explains Thomas. "The garden bar was good, the sales were fantastic, but the demographic wasn't right. Everyone other than people that work for me called it the sports bar, because it was full of blokes and betting."
Full story on The Oaks 2019 renovation in the September edition of PubTIC magazine.