Rockpool Group has been busy spreading bier cheer, opening four new Bavarians in the lead-up to this year's Oktoberfest celebrations at its venues.
In June two new The Bavarians threw open their doors, starting with The Bavarian Mackay on the 26th unveiled within Caneland Central shopping centre. Located in the former Ribs and Rumps site it accommodates up to 400 guests, with around 100 seats outdoors.
Days later The Bavarian Macarthur came online in Sydney's south-west, in Macarthur Square shopping centre, directly below Events Cinemas and adjacent to Macarthur train station. It can provide for 420 guests, with around 150 seats outdoors.
Next came The Bavarian Robina, officially joining the Group's portfolio on the Gold Coast on Wednesday, 28 August. In what is known as 'The Kitchens' precinct, it is spread across two former restaurants, offering German-esque beer-loving fun for 340 patrons, including 120 outdoor places.
And yesterday (17 September) Rockpool fired up its second Bavarian in the ACT, in Belconnen, notching up number 30 for the portfolio as the Group executes a strategy of widespread national rollout of the Bavarian-themed brand.
"The Bavarian Woden in Canberra's south-west has been a huge hit with locals, so we're thrilled to be bringing our second affordable and family-friendly destination to the city's northern suburbs," offers Group CEO Thomas Pash.
Each new venue throws a launch party on opening day, giving away 500 free hotdogs to first-comers, and puts up 'dinner & drink' specials every night throughout the week.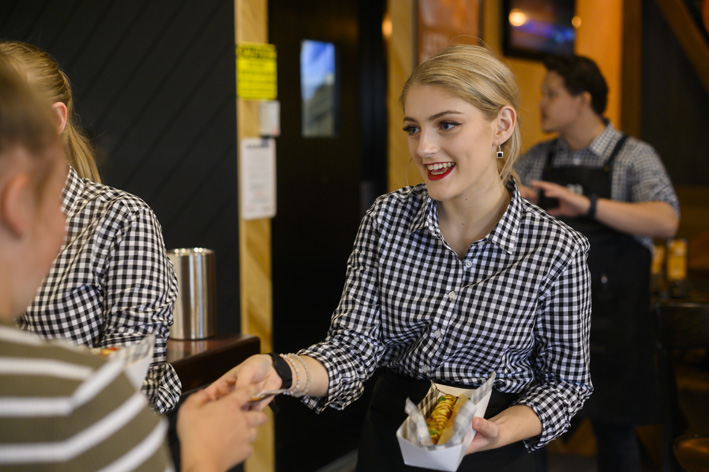 Each contains bespoke branding elements, with bier-barrel feature walls and stein chandeliers, and each has employed dozens of new staff, with a focus on finding locals to shore the business' ties to the area.
Based in Bavarian hospitality, each offers an impressive array of beers on tap, led by imported favourites Löwenbräu, Franziskaner, Stiegl, Spaten and Hofbräu, ahead of a menu featuring crispy pork knuckle, crackling pork belly, gourmet sausages, shared platters, and an assortment of schnitzels.
Catering to the less robust, lighter bites include chicken wings, spicy squid and build-your-own salads.
This weekend heralds the coming highlight of German bier appreciation, and Rockpool's launch weekend, bringing games and competitions, such as stein holding and yodelling.
There will also be official Oktoberfest beverages: Hofbräu München Oktoberfestbier, Löwenbräu Oktoberfestbier, Spaten Oktoberfestbier and Paulaner Oktoberfestbier, as well as Pirate Life Fiestbier and 4 Pines Kellar Door Schwartzbier – brewed exclusively for The Bavarian's Oktoberfest celebrations.
Guests are also encouraged to dress in their finest lederhosen or dirndl for the chance to win a $200 dining voucher, and the title of Best Dressed of Oktoberfest.