W. Short Hotel Group has launched Beer Club in its crafty brew mecca the Australian Heritage Hotel in The Rocks, building on the pub's reputation and dedication to the boutique beverage trade.
The Australian's "Wish You Were Beer" Club will generally take place on the first Thursday of each month, each enticingly hosted by well-known brewers, talking all things beer.
A rotating roster of featured breweries will wax lyrical to beer nerds and curious debutants about their backstories and how they work, all while serving samples of their range, complemented by food platters by The Aussie.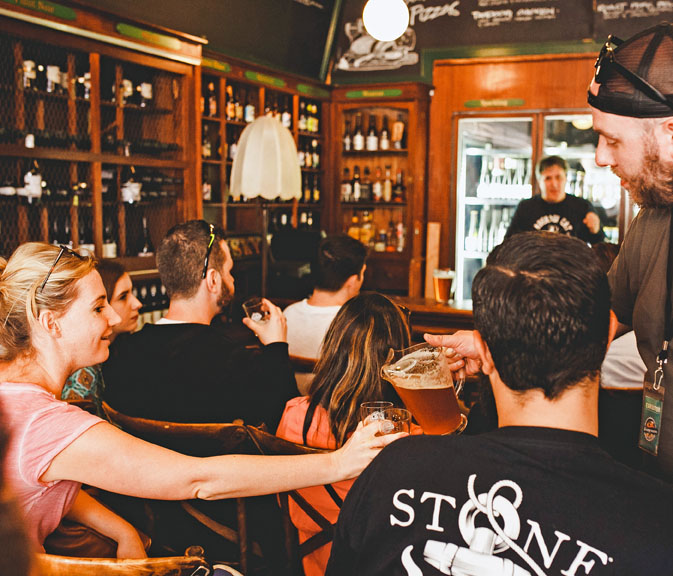 "Beer Club is an evening where craft enthusiasts can get together for a relaxed evening of sampling, learning and speaking to the people behind the Australian brands," explains operations manager Hugh Gillroy.
"The Aussie is proud to support the craft industry and already has 20 rotating Australian beers on tap and more than 120 Australian craft beer varieties in bottles."
The inaugural Club meeting took place last week to a healthy first-night attendance, entertained by Toby Kline of Lot 100, who flew in from Adelaide to speak on the company's sustainable practices, such as feeding spent hops and malt to cows, and using the cow manure in growing apple trees.
Lot 100 is home to Mismatch Brewing Co, Adelaide Hills Distillery, Ashton Valley Fresh, and Hills Cider Co.
The Club takes place from 6pm – 8pm, with tickets $35 per person.
The Aussie hopes it will appeal to a good cross-section of the experiential drinks market.
"Next month we will have Brad Rodgers from Forest for the Trees – founder of Stone & Wood – flying down from Byron Bay, talking through Saisons and weird beers," says Gillroy.
"Beer Club is not just for beer lovers, it's for people who have a keen interest in the Australian craft industry, which includes spirits, ciders and of course beer."
Upcoming theme nights at The Australian's Beer Club:
July: Forest For The Trees
                *Special Time: Tuesday, 2 July
August: Akasha Brewing Company
September: Modus Operandi
October: Brick Lane Brewing Co.
November: Holgate Brewhouse
December: Pirate Life Brewing