The landmark Rose Bay Hotel has reopened today after an extensive and much-needed overhaul involving vintage trains and a new approach.
Located on the bustling corner of New South Head and Dover Roads, the pub is a handsome three-storey Victorian red brick structure, with some tasteful later additions on its south-western boundary.
It was purchased in 1997 by Bellevue Hill family the Auswilds, who had it operated under management.
For two decades the pub has been known by locals as home to a classic model train that every hour made its way around an overhead track in the front bar, although the nearest station is five kilometres away in Edgecliff.
The train's presence roughly coincides with the Hotel's prior renovation, but now operating under management of the Auswilds, the Rose Bay has been dragged into the 21st century with a six-month renovation.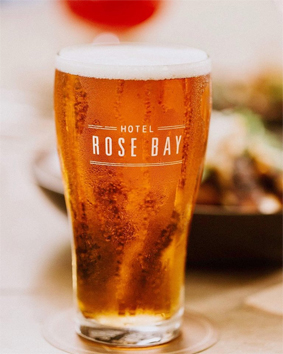 "It's been a long time coming," says general manager Toby Chick, recalling the local debate sparked over the old girl's makeover, which included #savethetrain campaigns. 
The new look comes out of Richards Stanisich Interiors, tasked with creating light and aesthetic spaces in the old building. This has brought about raised ceilings, repositioned windows for natural light, Terrazzo tiling, and elegant emerald granite bar tops.
New to the Rose Bay food offering is executive chef Ian Royle, coming from seven years at Flying Fish, and years as head chef at Catalina prior to that.
There is a new 70-seat restaurant featuring the likes of split king prawns with burnt butter and coastal greens, and free-range chicken with coconut, chilli and peanut sauce. Royle suggests the pitch is a step below fine-dining, but one above a regular pub offering.
Dining options in the main bar will come out of the restaurant, based in modernised traditional selections, with sharing options.
Practically overlooking Rose Bay beach, in one of Sydney's high net worth precincts, Chick and crew see the value in offering a deliberately broad range of options on the menus.
"We're trying to change our approach, to being a multi-faceted venue," he explains.
"You can see it in our wine list and food offering, where our entry-level pricing is very reasonable, then it goes up to quite premium.
"It's really the customer's decision whether they want to come in and have an affordable night, or if they want to go a bit more premium – all with great service, and a great offering."